Most people across the world today live under the assumption that the water they drink is healthy and uncontaminated.
Unfortunately, that's still far from the truth. Even in places where the water is legally safe, you can still be exposed to various chemicals and contaminants that are not good for your body in the long run.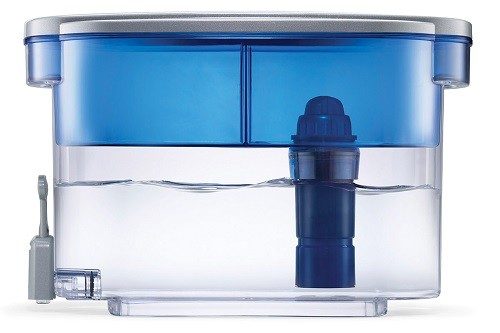 With that in mind, the quickest and most cost-effective way of ensuring that you are drinking clean water is to buy a water filter pitcher. But, you have to make sure you choose one that removes the right chemicals while also enhancing the taste of your water.
You should also purchase one that can quench your entire family's thirst. If this sounds like the type of product you've been looking for then let us introduce you to the PUR 18 Cup Water Filtration Dispenser.
About The Product
Designed by one of the most renowned filtration system companies in the world, PUR is known for manufacturing quality products that remove the majority of chemicals and other pollutants from your drinking water.
The PUR 18 Cup Water Filtration Dispenser contains a unique, premium carbon water filter which has the ability to remove 96% of trace levels of pharmaceuticals and 96% of mercury.
Not only this, this efficient water filter pitcher reduces the taste and odor of chlorine but leaves behind a healthy level of fluoride, leaving you with great tasting water that is beneficial to you or your loved ones.
Created with the latest PUR MAXION filter technology which blends carbon and ion exchange materials, the PUR 18 Cup Water Filtration Dispenser filter is made of heat treated coconut shell making it the ultimate tool for ensuring that your water is sanitary and tastes great.
In addition to the above, this PUR model comes with a comfortable grip handle so that you can pour water for all your friends and family. For maximum simplicity, it also comes equipped with a specially designed thumb activated lid making it easy to refill.
The spout has a cover which means that particulates and unwanted odors don't enter into your pitcher even when left in the fridge with other foods. Plus, PUR has designed this model to fit in virtually any fridge door, allowing you to save space.
Last but not least, this model holds a whopping 18 glasses of fresh water which means that you can offer family and friends clean water everyday without having to spend hours refilling your dispenser.
Typically, the filter life on the PUR 18 Cup Water Filtration Dispenser filter lasts anywhere between one and two months depending on the number of people in your household and the amount you drink. The water filtration dispenser comes with a free filter included.
What Customers Are Saying
With more than 80% of customers giving the PUR 18 Cup Water Filtration Dispenser filter a 4-star rating or higher, it is no surprise that we've decided to bring this product to your attention.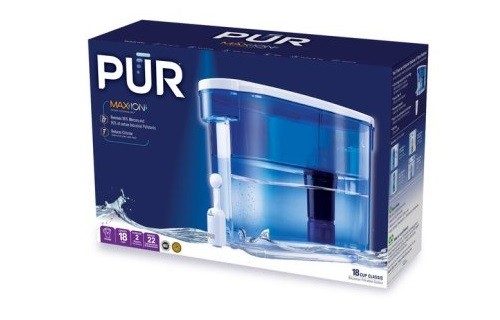 When compared to other manufacturers and models, customers have found that this PUR pitcher is much sturdier and built to stand the test of time. Not only this, because of its effective design, it is much easier and more comfortable to clean.
In addition to the above, customers were particularly happy with how quickly this PUR water filtration system dispenses water. Plus, with its huge capacity, it doesn't need to be filled up nearly as regularly.
Customers who reviewed the PUR 18 Cup Water Filtration Dispenser filter are particularly happy with how good the water tastes compared to their regular tap water. Nearly all customers have reported water coming out crystal clear.
Others are very happy with how nicely this model fits in their fridges, specifically in the door, allowing them to save space.
Reviewers find that the water filters through the system in just 2 to 3 minutes and that they no longer have to buy bottled water because this PUR model can filter through even the hardest of waters in places such as Arizona.
Customers who reviewed their PUR 18 Cup Water Filtration Dispenser filter more than 6 months after purchasing it said that it is easy to install and still shows no sign of leakage despite it being plastic.
Lastly, the PUR 18 Cup Water Filtration Dispenser filter is particularly good for large households or for those of you who need to filter water for tea, coffee, and cooking because of its 18 cup capacity and ability to filter water quickly.
What To Look Out For
One of the biggest issues that has been reported about the PUR 18 Cup Water Filtration Dispenser filter is the fact that the filter does not seem to last for the full 1 to 2 months as described in the product information.
A number of customers have reported the water tasting like mold after just a few uses and others have received models that have started leaking within just a couple of months of use.
Lastly, certain customers were not impressed with the customer support services they received from PUR, saying that they were compensated with just one new filter rather than a new model even when the problem persisted.
While some reviews are less flattering than others, these are very few, and with the right maintenance, the PUR 18 Cup Water Filtration Dispenser filter has been reported to be an exceptional product.
Buying Advice
If you've decided that the PUR 18 Cup Water Filtration Dispenser filter is the one for you, then head to over to Amazon to make your purchase.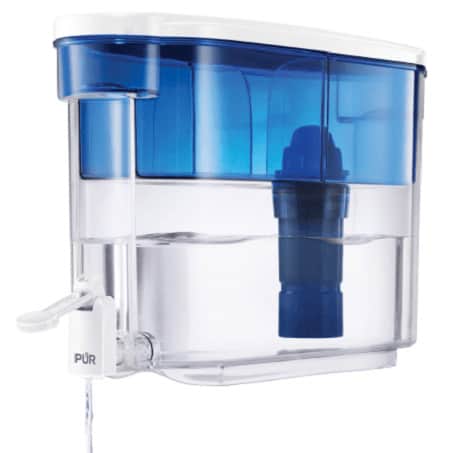 While you can find this model at other online retailers, Amazon offers the best price of around $25, including free shipping straight to your doorstep.
Final Verdict
If you want a water filter pitcher that dispenses clean odorless water free of a variety of pollutants and chemicals, then look no further, the PUR 18 Cup Water Filtration Dispenser filter is the one for you.
With more than 3,000 reviews, the majority of which are outstanding, the PUR 18 Cup Water Filtration Dispenser filter gets our seal of approval as one of the best water filter pitchers in the industry today.