Big Berkey Water Filters are made thanks to the Doulton technology of the Super Sterasyl Ceramic filter. This purification system has been heavily used by military forces, relief organizations, and missionaries who lacked access to clean water. Several years ago, these same filtration devices were developed into the classic Black Berkey Filters that are used in Royal Berkey, Crown Berkey and Big Berkey Water Filter Systems today.
​This Berkey Water Filter review will take you through the features and levels of performance that you can expect from ​these high performance water purifiers, in turn helping you to come to an informed buying decision through our research as well as decide whether this is the best gravity water filter for your filtered water needs.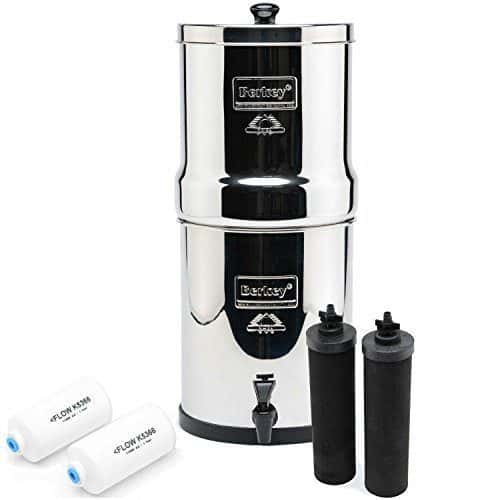 The Big Berkey Water Filter System's Features And Benefits

The Big Berkey Countertop water filter system removes Lead, MTBE's, volatile organic compounds and other heavy metals up to 95% levels.
The black Berkey water filter system gets rid of Chlorine almost completely by reducing it to a harmless level to improve overall health.
It has a highly polished 304 stainless steel shell.
​This range of filters has gravity-fed systems that require no plumbing or tap water hookups for purifying water.
​Each Black filter has a 3,000 gallon lifespan (6,000 used in pairs).
It filters bacteria and viruses to a 99.99999% level.
The Big Berkey's PF-2 filters remove Fluoride present in tap water as well as arsenic which may be present in other water sources.
The replacement time of the fluoride filters can be easily tested with red dye (no expensive water tests to ascertain water quality).
In emergencies it can also be used with non-public water (stream, lake, etc.) to provide clean drinking water.
Black Berkey filters exceed EPA log 7 ANSI / NSF protocols for filtration as per their test results and are rated as water purifiers.
​How To Assemble, Use And Maintain Your Big Berkey Water Purification System​

Assembly of this water filtration system doesn't take much as it is very easy to install. Without any plumbing knowledge or previous experience, a user should be able to easily assemble and install the filtration system in less than 30 minutes with some of that time being used cleaning the entire system. Changing the water filters is the only part most people will not have any experience in. It is simply done by holding the filter against a water faucet using a gasket supplied, while forcing water through the filter. This process is used to ensure that the filters are clean and ready to filter clean water.
When doing this, you should follow the instructions manual to the word. It is advisable to change the water of this purifier 3 or 4 times before you put them into use – this way you'll make sure that even the very first drop of water you drink will be of the highest quality. If you are worried about your lack of experience, you might want to watch the videos on the Berkey website before you start. The website doesn't have a very sophisticated help section, but they will provide you with an indepth understanding as to how best to set up your new water filtration system.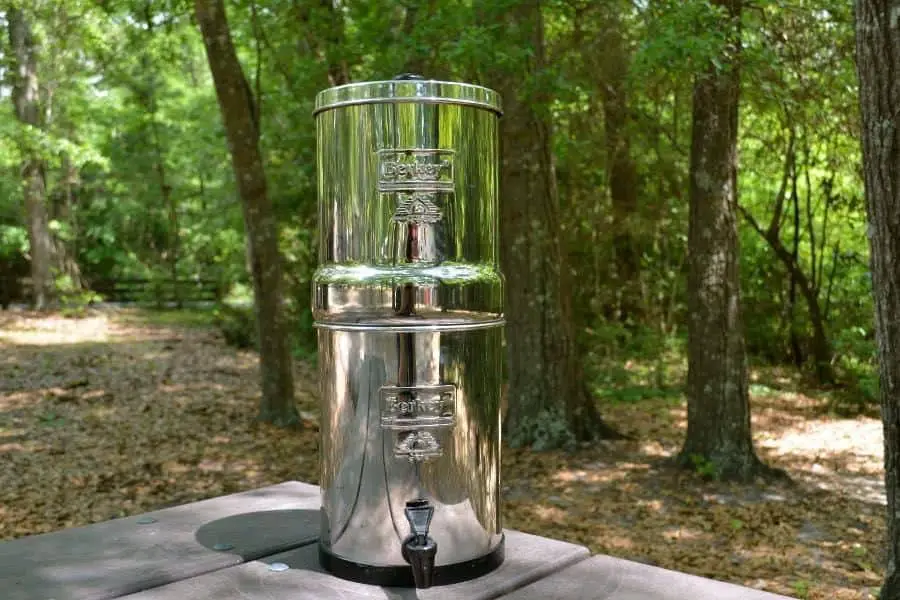 Big Berkey Water Filter System Specifications

It is made out of a highly polished 304 stainless steel. It also comes complete with two purification elements and utilizes the latest technological advances.
It has a storage Capacity of 3.25 gallons or 12.3 liters.
It has a Height of 23 inches.
It has a Diameter of 9.5 inches.
It is highly portable – the upper chamber of the unit nests within the lower chamber for transport and stands only 15.25 inches in height.
Upon testing, the flow rate of the system is determined as about 4.0 Gallons per hour.
It is great for removal of Fluoride – there are 2 PF-2 Fluoride and Arsenic Filters installed in the lower chamber of this system.
This water purification system also comes with a lid, washers, nuts, 2 blocking plugs, and a rubber gasket.
The whole system has a considerable cost, however, it is well within what one might expect from a high-quality countertop water filtration system.
​What Makes The Big Berkey Filter So Great?
The more one researches Berkey products, the more he or she will get excited at what a well-developed water purifier this system is. These water filtration systems easily remove pathogenic bacteria, cysts and parasites entirely and extracts harmful chemicals such as herbicides, pesticides, VOCs, organic solvents, radon 222 and trihalomethanes.  What's more, it also greatly reduces nitrates, nitrites and other unhealthy minerals such as lead and mercury. The system is impressively powerful and it can even remove the food coloring from water without removing the beneficial minerals your body needs. Also, as we mentioned briefly above, the red food coloring test can be used at any time to determine whether the filters are up for replacement.
What needs to be mentioned most of all, however, are the Black Berkey Filters that each purification system utilizes. They are near a foot long and are made out of a proprietary combination of approximately 6 different types of media. They exceed EPA log 7 ANSI / NSF protocols for filtration and thus are rated as water purifiers. In other words, they take water filtering to a whole new level. Units of this high quality often cost well over a thousand dollars, which further exemplifies how well priced this system actually is.
​​How The Big Berkey Gravity Filter Works
The​se premium water purifiers work by utilizing several different filtration methodologies contained within each Black Filter. These elements are composed of a formulation of more than a half dozen different media types constructed into a very fine matrix creating millions of micro-fine pores. The pores are so small that pathogenic bacteria, cysts, parasites, sediment and sedimentary minerals are not able to pass through them – a process similar to reverse osmosis. The media formulation both "absorbs" some contaminates and "adsorbs" other contaminates present in contaminated water. This is the mark of every good filtration system.
Next, heavy metals ions (mineral molecules) are extracted through an Ion exchange process where they are electrically bonded to the media. Last, but not least, the filter elements are designed in such a way that each water molecule can take several minutes to pass through these elements. In comparison, the same process in other filtration systems takes literally microseconds. And this is actually an advantage of this product, since the longer the water molecules are in contact with any filtration media, the greater the removal of the various contaminates is.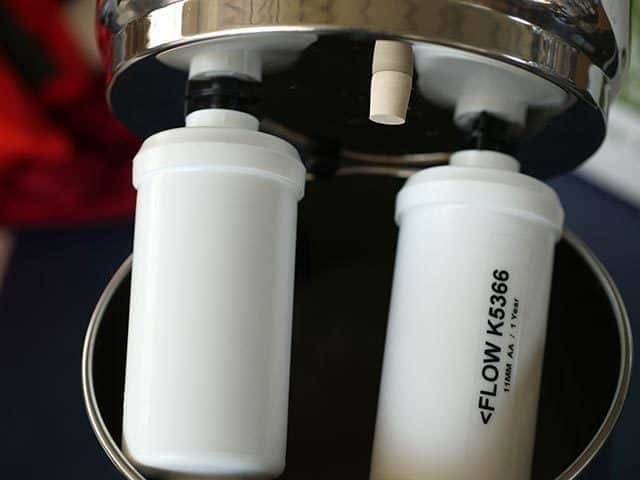 ​Berkey filters remove all of the contaminants you can expect from a water filtration system, but go a step further by removing up to 95% of the Lead, MTBE's, and other heavy metals present. Additionally, since the​se products are classified as water purifiers, they will filter bacteria to a 99.99999% level and viruses to a 99.9999% level (e-coli, etc). Even better, this brand of purifier filters out Chlorine to undetectable levels, while most other brands of purifier will only remove > 90% of Chlorine, leaving a significant amount of the chemical in the water.
Plus, there are also the PF-2 Fluoride and Arsenic filters that ​allow for fluoride removal as well as arsenic removal. If you're concernced over the quality of your municipal water, this is a welcome bonus for tap drinking water. The medium used in these filters to remove fluoride and arsenic is activated alumina. Unfortunately, these units need to be purchased separately from the unit as their water purifying and filtering life (1,000 gals) is shorter than the Black Berkey Filters.
Final Verdict
The Big Berkey Water Filter System is virtually guaranteed to satisfy the needs of every family in the U.S. If you are looking for a great long-term water purifier for your home that also comes at a price that is great for its quality, the Big Berkey is one to consider, and many positive customer reviews would agree.
​The 2 base Black Berkey's filters in the unit do not need to be replaced for about 3 years for an average family of 4 that uses approximately 5 gallons of water daily. If you chose to purchase the PF-2 Fluoride and Arsenic filters as well, the cost will rise by quite a bit per year, but ​these additions are worthwhile.
For the quality of water you are getting out of th​is water purifier, the initial cost should be overlooked, especially in comparison with other water filtration systems or bottled water.
There are many Berkey water filter reviews online which have been written by satisfied users which ​reinforces this products quality. Whether you choose a Travel Berkey or one of their other filtration systems, you are sure to be satisfied.
Big Berkey Water Filter Review Grade: Excellent
Filters bacteria and viruses to a 99.99999% level.
Removes Lead, MTBE's, and other heavy metals up to 95% levels.
​Fluoride filters remove fluoride and arsenic.
Removes chlorine.
The unit is easy to clean and maintain.
The filters have a long life of ~3,000 gallons per individual cartridge.
The whole system is easy to assemble.
The system requires no plumbing experience to install.
It has an attractive design.
It is energy efficient and your electric bill won't even feel it.
Convenience of ​producing filtered water in the home.
It has an affordable price, especially for its high quality.
Big Berkey Countertop Gravity Water Systems are an appliance that is designed to last you for a lifetime. If you are in need of a water system that is solid, that is on the level of a purifier, and is low maintenance, then Big Berkey Water Filter Systems are for you.