Selecting the right water filter pitcher is challenging. There are now so many manufacturers and models to choose from, all claiming to be better than the other. The only way to choose the right one is to learn about your water.
You need to find out what contaminants and other pollutants are in your water. You also need to consider the taste and odor of your water so that you can choose a model able to dispense clear water all year round.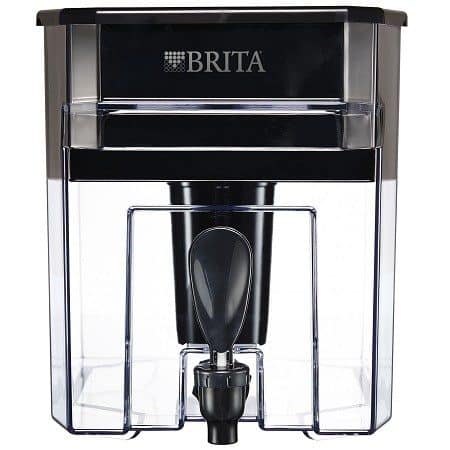 You must keep the size of your fridge and household in mind in order to choose a water filter pitcher that can quench the whole family's thirst. It's also important that you choose a model for which you can change the filter regularly and easily.
Lastly, you need to keep your budget in mind because, despite the fact that these dispensers are normally affordable, their filters can be more expensive so choose a model for which the filter is reasonably priced and does not need replacing too often.
With all the above in mind, we'd like to bring your attention to the Brita Large 18 Cup UltraMax Water Dispenser and Filter.
About The Product
Created by one of the most well-regarded water filter pitcher manufacturers in the world, the Brita Large 18 Cup UltraMax Water Dispenser and Filter is by far one of the best products on the market today, and here's why:
Designed for larger households with numerous tenants, big offices, or simply those who drink large amounts of water, the Brita Large 18 Cup UltraMax Water Dispenser and Filter can provide up to 18 cups of water per refill.
This Brita model is known for reducing the amount of chlorine, mercury, copper, zinc, and cadmium in your tap water, leaving you with a nicer flavor and odor. Aside from that, you'll be consuming fewer impurities on a day-to-day basis.
This large water filter pitcher is designed especially to fit in most fridges. It comes with an easy pour spigot as well as a flip top lid so that you can refill it easily every time your water levels start to get low.
Not only this, it comes with a mesh screen for effective filtration as well as a unique aeration device. Plus, with the added ion-exchange resin and activated carbon, you'll love drinking your tap water from now on.
The Brita Large 18 Cup UltraMax Water Dispenser and Filter is extremely easy to install and doesn't require you to pre-soak it. It is also made of BPA-free plastic and has a 40-gallon filter life which equates to approximately 300 16-ounce plastic bottles.
What Customers Are Saying
The Brita Large 18 Cup UltraMax Water Dispenser and Filter has received nearly 700 reviews, the large majority of which are extremely positive. Of these positive reviews, the majority say that this water filter pitcher is a great addition to their homes.
Customers who reviewed this product love the fact that with it they don't need to use plastic water bottles bought from the supermarket, thus saving them money and having a better impact on the environment.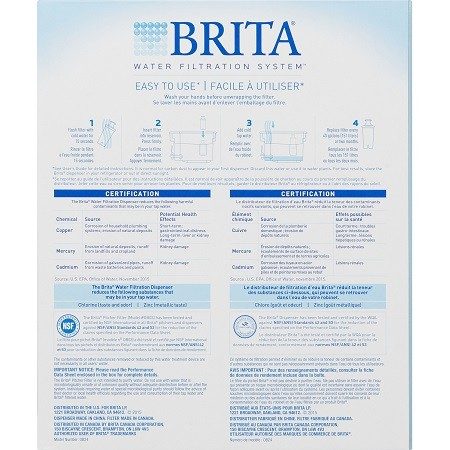 In addition to the above, folks love the fact that this model is extremely easy to refill. While some find it more difficult than others to replenish it in their fridge, by taking it to the sink, you'll have a seamless experience refilling your water pitcher.
That being said, the majority of customers who left positive reviews say that with a separate jug they can refill their Brita Large 18 Cup UltraMax Water Dispenser and Filter without having to take the entire appliance out of their fridge.
Many of the customers who bought this water filter pitcher already owned various other Brita products, however, they describe this one as exceptionally convenient, and a perfect addition to virtually any household.
Parents wrote in to say that the Brita Large 18 Cup UltraMax Water Dispenser and Filter is particularly good for households with kids as with it, the children do not need to remove it from the fridge thus reducing the chances of them spilling water or dropping the pitcher altogether.
Other customers love the color of the Brita water filter pitcher saying that it matches their modern black appliances in their kitchens.
What To Look Out For
Despite the majority of reviews being extremely complimentary, others were not as flattering in their feedback. Unfortunately, some customers received faulty products meaning that water leaked all over their fridges.
Other customers say that various parts, including the lever and the handle, broke within just a couple of uses. That being said, most customers who complained about their faulty product to Amazon received a new model virtually instantly.
Last but not least, some reviewers wrote in to say that the water dispensed leaves a metallic and plastic taste in their water, thus rendering the product completely useless.
While the Brita Large 18 Cup UltraMax Water Dispenser and Filter did receive some negative reviews, the majority seem to stem from faulty designs. Fortunately, the customer support team seems eager to refund or replace products accordingly.
Buying Advice
If you think the Brita Large 18 Cup UltraMax Water Dispenser and Filter is the one for you, we recommend you head over to Amazon to make your purchase.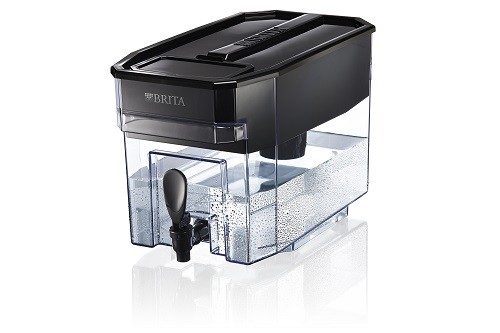 In addition to offering one of the best prices of around $27, by buying it from Amazon, you'll benefit from shipping straight to your doorstep.
Plus, you can choose between the option to buy the pitcher with a filter or the pitcher, filter, and dash button, something that allows you to reorder your device via wi-fi with just the click of a button.
Final Verdict
The Brita Large 18 Cup UltraMax Water Dispenser and Filter is one of the most sought after water filter pitchers on the market today, and that comes as no surprise as it is packed with a mound of features allowing it to provide you with clean, crisp water day in, day out.