Having a good water infuser pitcher at home is a great compliment to any kitchen. An infusion pitcher is great both for formal gatherings when you want to impress and delight your guests with some sangria or a delicious ice tea, but it is also perfect for a pleasant and informal family breakfast when you want to serve some juice or fruit-flavored water on the table.
A good infused water pitcher needs to be made out of high quality materials, as well as to have a sturdy construction to ensure its longevity. After all, this is a product that you purchase in order to use for years and even decades to come. There are a ton of different infusion water pitchers out there and most of them look the same, particularly on an online picture. This makes it difficult sometimes to find a great infusion pitcher that you can trust is going to be of the quality the seller claims it to be. Even customer reviews and comments are rarely trustworthy online.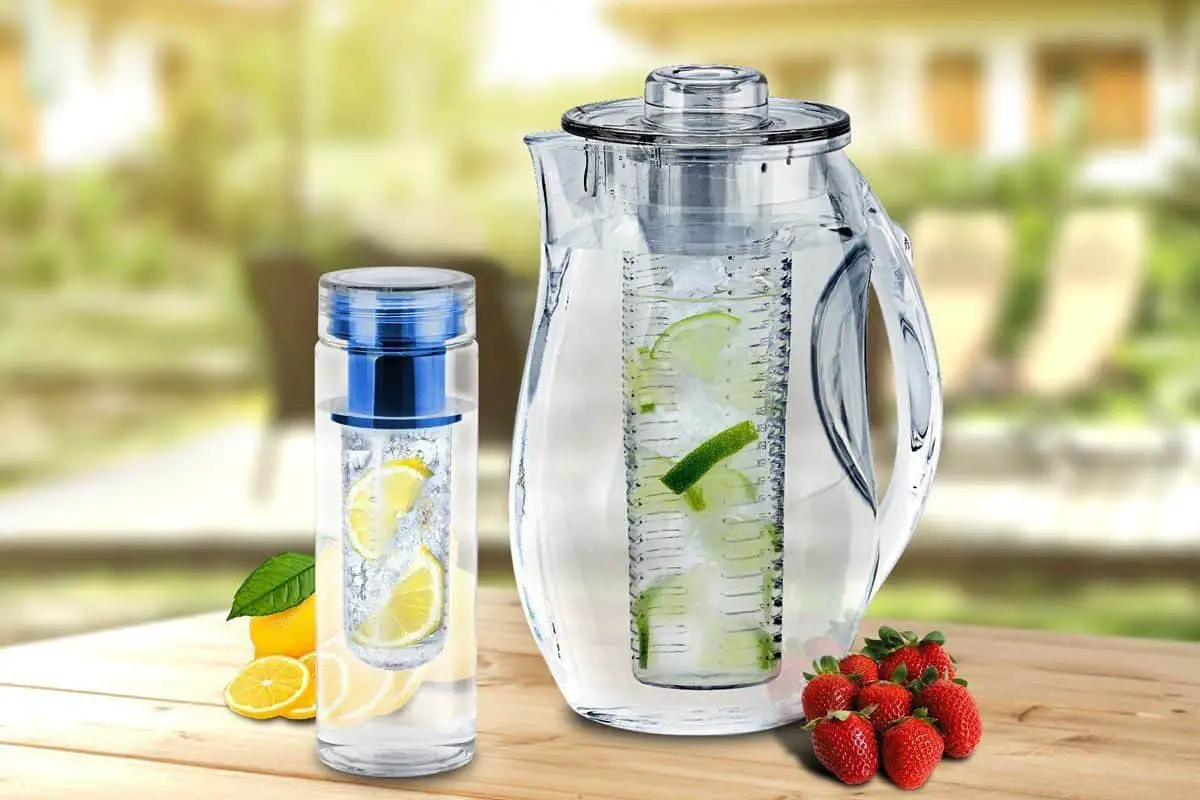 So, how do you find a high quality infused water pitcher? Well, the first step is to look for the right brand – there are several brands that have earned the right to claim a high quality status and that have earned our trust. You also want to pay attention to the pitcher's features, however. Not all infused pitchers are the same, some have different features, and others lack one or two key ones. Some aim for a simplistic and clean design, while others go for a complicated and rich on features one. Which you prefer is entirely up to you, but make sure to check if the abundance of features doesn't compromise the sturdiness of the product's construction too.
To further help you out, below we've compiled a list of the top 5 infused water pitchers we have reviewed and are available to purchase online. We're not saying that these are the only infused pitchers out there – there is an abundance of great infused pitchers on the market right now. But if you are just now starting to look for one, we'd really recommend the 5 products below as we believe they offer the best value on the market. Take a look at our water infusion pitchers below!
​Best Infused Water Pitcher Reviews
Our Recommendations

​​Hiware bring us our ​worthy winner with their glass water infuser pitcher. With a capacity of 64 ounces, this pitcher impresses with its size and practicality. With it you can rest assured that you'll always be ready for unexpected guests or formal dinners and lunches, as well as that your family breakfast will always be accompanied by a freshly infused tea, ice tea, juice, tasty water or anything else you might possibly want.
​​​​The pitcher is made of a high quality acrylic material that is free of any BPA or other unhealthy materials. It has a solid construction that will ensure its longevity, but also makes for a cool looking design – one that you'll never be embarrassed to place on the table or the countertop. It has a well-built lid that doesn't need to be unscrewed or held to poor freely.
What's even better, this model comes with a free cookbook present, making this a great gift for a friend as well. Plus, there is a 100% money back guarantee.
​VeBo provide a great alternative​, coming in second place with their Tea and Fruit pitcher. Perfect for exactly those things, this VeBo pitcher has an ice core rod that keeps the liquids in the jug cool without the melt water getting into your beverage. Whether for ice teas, for punches and juices, or for sangria, this is a very comfortable to use product. It can also just as well be used for hot tea – just fill the rod with the tea and pour hot water into the pitcher.
​​​It is made out of a shatterproof and non-toxic acrylic that is also free of any BPA. The material is tested and approved for consumer safety and health and its design is also sturdy and shatterproof, virtually guaranteeing longevity. It also has a lid on top, to help keep the ice rod and the body separated while pouring.
The volume of this VeBo tea and fruit pitcher is also impressive – 2.9 quarts / 2.75 liters / 93 ounces. This is plenty for any formal or informal gathering of any size. What's more, the fruit infusion pitcher is also dishwasher safe as it will not be affected in any negative way by the cleaning process.
​The lid doesn't close too tightly and needs to be held when pouring.
​Prodyne ​are middle of the pack on our list with their Fruit infusion flavor pitcher. Made out of a high quality acrylic that is free of any BPA, it has a solid construction and a simple, yet enticing design. The clear look of the acrylic allows for a beautiful view as the liquid infuses with the fruits, vegetables or herbs in the fruit core rod.
​The rod itself has a lid, allowing for more safety and security. It has the expected great volume of 2.9 quarts / 2.74 liters / 93 ounces, which is ideal for any formal or informal gathering, as well as for any type of beverage, be it tea, ice tea, juice, sangria or anything similar.
With a cool looking and effective pitcher like that you'd be happy to meet guests for any occasion.
​The lid is oval shaped and doesn't prevent accidental spillage.
​Chef's INSPIRATIONS bring us the second to last entry on our list with their Fruit infusion water pitcher. Whether you want lemon, fruit, tea or herb infused beverages, this is a great product with a simple, yet cool design. It is made out of a shatterproof acrylic that is free of any BPA and other unhealthy materials. The construction is also sturdy and solid enough to ensure a long and productive life for this jug, given that it avoids any accidents.
​​​It has a capacity of 2.9 quarts / 2.75 liters / 93 ounces, just like the VeBo pitcher. The design has a couple of different touches, however, giving it an interesting, yet not weird look. This is an infusion pitcher that you'd be happy to put on the table for any formal or informal gathering – a dinner with friends, a breakfast with the family, or an afternoon in the yard, this pitcher can help you prepare warm or cold beverages for any occasion.
As any good infusion pitcher, it includes a removable and hollow fruit core where you can put any fruits, vegetables or herbs you like. The rod has open slots which allow for the infusion of the fruits or veggies with the water. The product also comes with an included ice core for creating icy beverages without diluting the water.
The jug is very easy to clean and is dishwasher safe. Plus, it comes with a money back guarantee.
​There is no cap for the ice core.
​​Our last water infused pitcher is a great product from Primula. It has a volume of 3 quarts / 2.8 liters / 97 ounces, allowing for large quantities of tea, ice tea, juice, sangria or other beverages to be prepared for any formal or informal occasion. It is made out of a BPA free Tritan and has a design that is both solid and sturdy, but also unique and beautiful. This is an infusion jug that will ​make the perfect addition to any kitchen.
​It also comes with 3 separate cores – one for fruits, one for tea and one for ice. The sturdy lid covers the entire opening of the pitcher, making spills and leaks unlikely. And if anything isn't as you wanted it to be, there is also a 100% money back guarantee.
​The quality of the finish could be better.
​Conclusion
​These are our 5 suggestions for the best fruit infused water pitchers. Do some of them seem appealing for your home? We are really impressed by the Hiware water pitcher because of its huge volume and high-quality finish, but the other options are a great buy which will serve you well for years to come.