The lights are up around the house, the star is on top of the tree, and the kids are shaking their wrapped presents, trying to guess what's inside. That's right – it's Christmas time again!
And after getting through 2020, it might be tempting to teach for a stiff drink, to relax after what's been a pretty stressful year.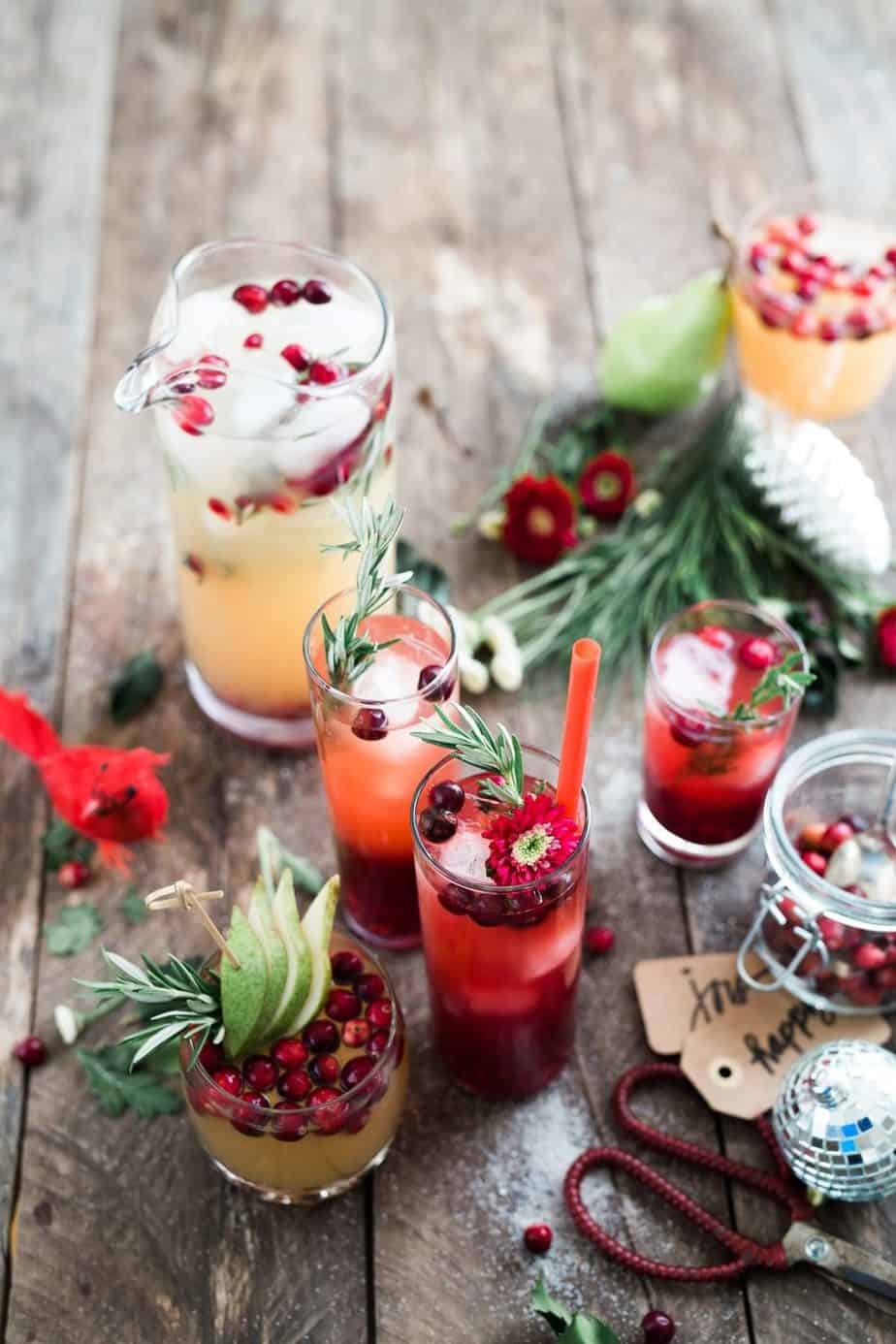 But before cracking open the mulled wine, it's important to remember that a successful and happy holiday season is all about balance – and there are loads of festive non-alcoholic drinks out there that are easy to make, delicious, and often very nutritious, for a gathering or holiday party.
So swap out the hangover for feeling fresh, without losing any of the holiday spirit or delicious flavor, and try out a non-alcoholic Christmas drink recipe that the whole family can enjoy together!
Non Alcoholic Christmas Punch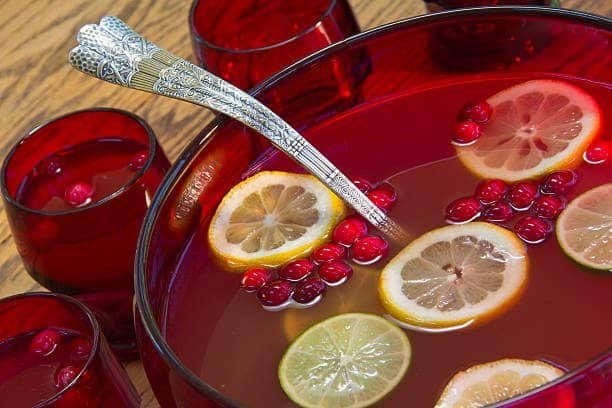 Punches don't have to be alcoholic to be enjoyable. Serve up this non-alcoholic Christmas punch recipe and everyone at the holiday party will be queueing up around the punch bowl to get a taste.
This punch recipe is as simple as it is delicious, and its blend of festive cranberries, orange, and herbal flavors will kick off the holiday cheer. There's also no added sugar – and if looking for a version that's lower on sugar, it's possible to swap out the cranberry or orange juice for lower-sugar versions.
Ingredients (serves 20)
6 cups cranberry juice
5 cups orange juice
8 cups/2 liters Sprite (or, to make it extra festive, Sprite Winter Spiced Cranberry)
1 small handful of rosemary leaves
1 small handful of mint leaves
1 cup whole fresh cranberries
10-12 orange slices (approx 1 large orange)
10-12 lime slices (approx 1 lime)
Method
To make this punch recipe, in a large punch bowl, mix the cranberry juice, orange juice, herbs, whole cranberries, orange, and lime slices. Stir well with a ladle and leave the flavors to blend for a few minutes.
To serve, add a few ice cubes to a glass. Then, add in some Sprite, then ladle over the punch mixture.
And there it is! Ready to drink!
Extra Tips
For a fun garnish, put aside a few rosemary and mint leaves and cranberries, and top each glass with them before serving.
Try to keep the punch in the fridge if making ahead of time, as opposed to putting ice cubes in it. Doing this will water down the punch.
Cranberry Fizz Mocktail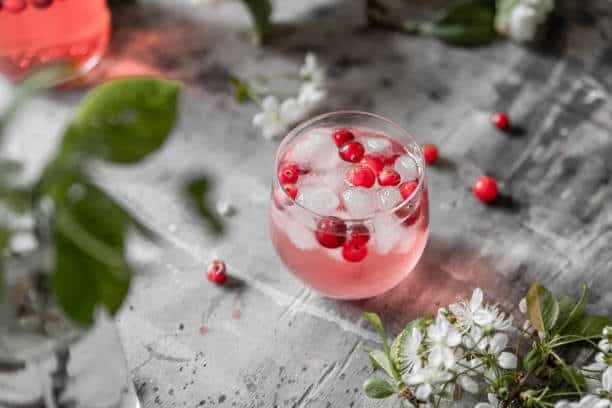 This cranberry fizz mocktail's bright color and festive rim will have kids and adults alike reaching for it – and its fresh flavor is bound to be a hit for those looking for delicious non-alcoholic cocktail recipe options.
A great positive is that cranberry juice is particularly high in vitamin C, meaning that aside from all the benefits achieved from not drinking alcohol, it's also a health-booster!
Ingredients (serves 4)
1.5 cups of ginger ale
1.5 cups of cranberry juice
2 tbsp lemon or lime juice
10 tbsp brown sugar
2 tbsp cinnamon
Method
Mix the brown sugar and cinnamon on a plate.
Take a glass and rub a little lemon or lime juice around the rim. Then, dip the rim into the sugar & cinnamon mixture. Set aside and repeat for the rest of the glasses.
Get a few ice cubes and place in each glass, and then pour in some cranberry juice. Top with ginger ale, and then serve!
Extra Tips
To mix up the flavors, try this mocktail with grape juice or apple juice.
Feel free to garnish with some fresh cranberries – or, for kids, a candy cane!
Classic Non-Alcoholic Eggnog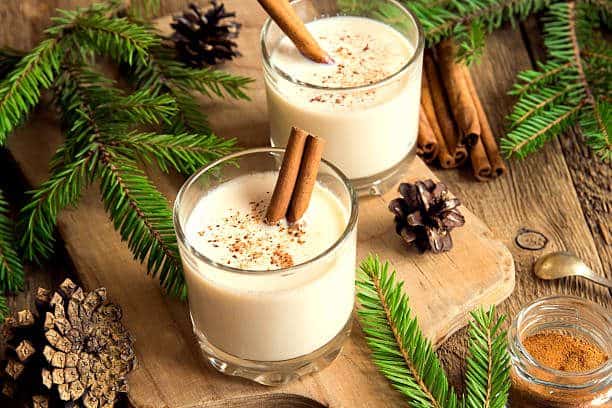 A holiday party wouldn't be a holiday party without eggnog. It's creamy, sweet flavor is the star of the show during the Christmas season – but, if trying to avoid alcohol, it can be hard to replace.
Well, not anymore! With this delicious, easy to make non-alcoholic eggnog recipe, there's all of the flavor and none of the booze, meaning the whole family can enjoy it.
Ingredients (serves 4)
2 cups whole milk
6 large egg yolks
1 cup heavy cream
½ cup finely granulated sugar
½ tsp ground cinnamon
½ tsp ground nutmeg
½ tsp good-quality vanilla extract
Whipped cream (to serve)
Method
Put a small pan on low heat, and combine the milk, vanilla, cinnamon, and nutmeg. Heat slowly to bring it to a light simmer.
While the milk mixture's heating up, in a separate large bowl whisk the egg yolks with the sugar, until they become pale. Then, add the milk mixture to the eggs very slowly, a little at a time, whisking constantly, until fully combined.
Put the mixture back into the pan, and heat over medium heat until it thickens slightly – make sure not to boil it. It should be able to coat the back of a spoon.
Take off the heat, and allow it to cool slightly. Stir in the heavy cream to combine, and then leave to cool fully. Once it's come down to room temperature, place it in the refrigerator to chill it.
When ready to serve, get a glass, ladle in some of the eggnog mixture, and top with whipped cream. Then, enjoy!
Extra Tips
To make an alcoholic version of the drink, simply add a shot or two of bourbon or rum per serving, and mix in well.
Reserve a little extra cinnamon for a delicious festive dusting on top!
Cranberry Juice & Rosemary Spritzer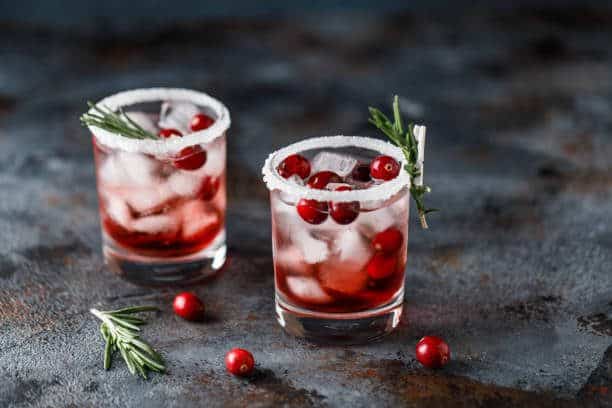 Moving back to the lighter side, this cranberry and rosemary spritzer is a zingy mocktail designed to freshen the palette. This drink makes the most of the herbal flavors of rosemary, clove, and star anise combined in a syrup, meaning it's better for more mature tastes.
Try this drink recipe alongside hors d'oeuvres or as an aperitif before dinner – it's a great palette cleanser.
Ingredients (serves 4)
For the rosemary syrup:
1 cup of water
1 cup fine granulated sugar
8 sprigs of rosemary
¼ tsp ground cloves
1 star anise
For the drink:
2 cups cranberry juice
2 cups ginger ale
6 oz rosemary syrup
Sprigs of rosemary, fresh cranberries, and slices of apple to garnish
Method
Let's start with the syrup. In a small pan, combine the water, sugar, rosemary, cloves, and star anise. Bring to a low boil for 2 minutes or so, and then take it off the heat once the sugar is dissolved. Allow it to cool, and then strain into a new container.
Then, in a punch bowl or jug, combine the cranberry juice, ginger ale, and syrup. Stir to mix, and then take a glass and fill it with ice. Pour the drink in, garnish with the rosemary, cranberries, and apple, and serve.
Extra Tips
If possible, source unsweetened cranberry juice.
Use a cocktail stick to skewer the garnish together, to make sure it's being served with a bang.
Orange Juice Sunburst Mocktail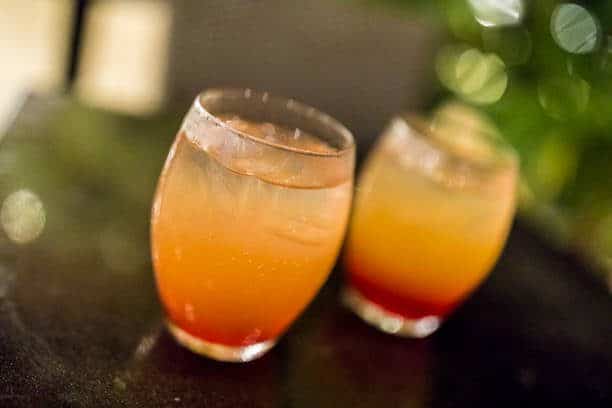 No need to kick off Christmas day with a mimosa cocktail – serve this up in the morning for the whole family to enjoy while opening the presents. Packed with vitamin C, this recipe's sure to be a healthy and delicious hit.
The bright look of this mocktail is not only appropriate for the holiday season, but it's one that kids will love too.
Ingredients (serves 4)
2 cups orange juice
4 cups sparkling water
8 tbsp grenadine
2 tbsp vanilla syrup (more or less to taste)
Sprigs of rosemary, to serve
Method
Take a glass, and fill with ice.
Add in the orange juice and sparkling water, and stir briefly. Once combined, slowly pour in the grenadine, and then the vanilla syrup.
Garnish with the rosemary, and serve.
Extra Tips
To turn this into a boozy treat, try adding a shot of vanilla-infused gin.
For a true 'snowball' effect, freeze the orange juice in ball-shaped ice molds, and then pour over the water. The kids love it!
Pomegranate Sparkling Mocktail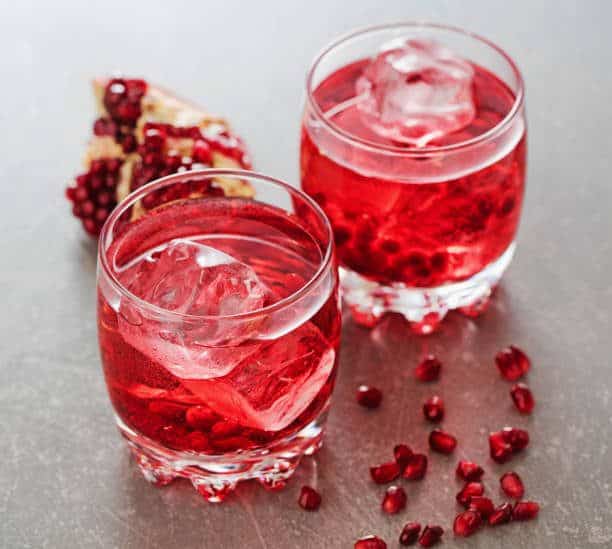 This super-festive mocktail has the unique flavors of pomegranate infused through it, meaning that it's light, refreshing, and a drink that'll be a star at the next party.
The true selling point of this cocktail is – by making it, grenadine is also made, to use for other festive drinks!
To make it alcoholic, try subbing out the water for apple cider – it's a drink with a difference, but bound to be a hit.
Ingredients (serves 8)
4 cups 100% pomegranate juice
2 cups of sugar
2 cups sparkling water
8 candy canes to garnish
Method
To make the grenadine, place the pomegranate juice in a pan and bring to a boil. Reduce to a simmer, and let it bubble away for 15-20 minutes until it's reduced by half. Add in the sugar, stir until dissolved, and then take off the heat until room temperature. Once it's chilled, put it in the fridge to cool down fully.
For the mocktail, take a glass and fill with ice. Pour in the sparkling water, and then pour a few tablespoons of grenadine in.
Add a candy cane, and serve.
Extra Tips
To reduce the sugar content of the grenadine, use less.
The grenadine will last in the fridge for up to a month.
The Best Peppermint Hot Chocolate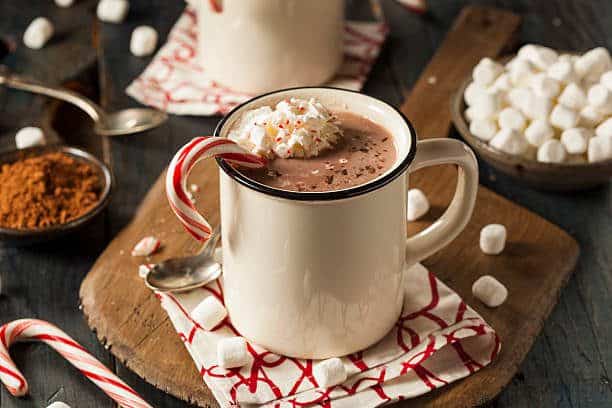 No Christmas is complete without hot chocolate. And while it's tempting to make hot chocolates a little boozy this time of year, there's no need – this peppermint hot chocolate is satisfying and virtuous.
This is the kind of thing that kids will go wild for – and the best part is, it's simple to make!
Ingredients (serves 4)
4 cups whole milk
2 cups milk chocolate chips
A few drops of peppermint extract
2 peppermint candy canes, crushed
Whipped cream and full candy canes, to top
Method
Bring milk to a simmer in a large pan. Once simmering, add the chocolate chips and the peppermint extract. Stir until the chips have melted.
Leave to cool a tiny bit, and then pour into a mug. Top with whipped cream, crushed candy canes, and full candy canes, and serve immediately.
The Bottom Line
Serving up non-alcoholic drinks over the holiday period is a cinch – and these simple recipes will be the hit of the party.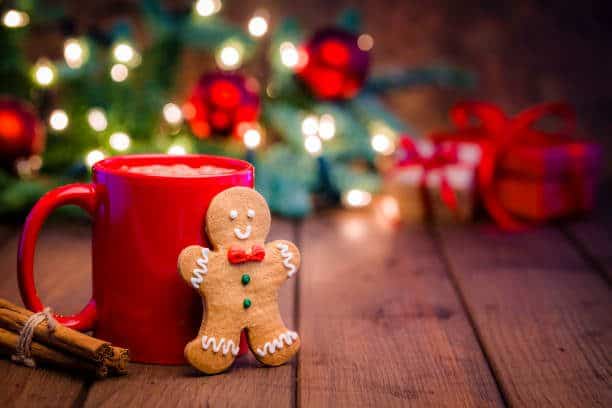 Some of these recipes contain high amounts of sugar, so as with all things over Christmas, be sure to balance them with other nutritious drinks and a healthy diet.
It's important to cut loose every once in a while, though – so try them out and enjoy!