Dupont are a big name within the water filtration industry, manufacturing and distributing a variety of premium products which are designed to improve the quality of water. Dupont filtration products are readily available across the US and are supported by a thorough after sales network who are capable of not only supplying replacement parts but of offering technical advice too.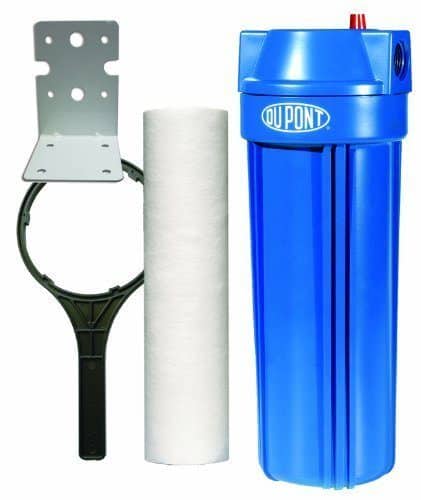 What marks Dupont's whole house water filters out as unique is their flexibility, as individual components can be specified and matched together to create the perfect water filtration system. In this review, we'll be covering their WFPF13003B 15,000 gallon model which can either be installed as a very cost-effective standalone system or can be customized with a variety of other Dupont filters and accessories as required.
​About The Product
Dupont employ a universal 10 micron water filter which is capable of removing any particle greater than 10 microns in size. Essentially, a filtration specification of 10 microns will remove a variety of unwanted particulates and sediments such as sand, silt, dust and rust from your water supply but won't be able to effectively remove smaller bacteria (present if you're sourcing your water from a well) which require a smaller 1 micron filter.
What many users have decided to do is install this filter as part of a larger setup consisting of an additional 15 micron filter, a 5 micron filter before then completing the filtration process with a carbon filter.
The idea is to install these filters in series and create a 2 or 3 stage filter, allowing each filter to remove the contaminants it is designed to before water is dispensed from the faucets around your home.
It is important to note that this system is designed to be installed to standard pipework which is 0.75" in diameter.
Included In The Box

The delivered product contains a single 10 micron water filter, a mounting bracket and the housing which the filter is designed to be installed inside.  
This kit also comes with a filter wrench included in the box which is designed to facilitate the installation and replacement of each filter.  
What To Look Out For
Customer feedback for this Dupont whole house system is very positive overall. What customers particularly liked is the fact that they have the ability to install this system in a variety of configurations, allowing them to customize this product to the needs of their household.
Unlike some whole house systems that are available, this system appears to be free from leakage issues with the only concern raised due to operator error and a mistake made during the installation process.
We would suggest being very cautious during the installation process to ensure that each O-ring is in place to avoid problems once the system is in operation.
​Buying Advice
The Dupont whole house water filter has been rated to 15,000 gallons, which whilst not as large a claim as some manufacturers, will still provide you with around 3 months of water filtration before you need to consider replacing each filter. We would recommend the installation of a pre-filter (15 microns) to ensure that as much sediment is removed as possible to prolong the life of the entire system.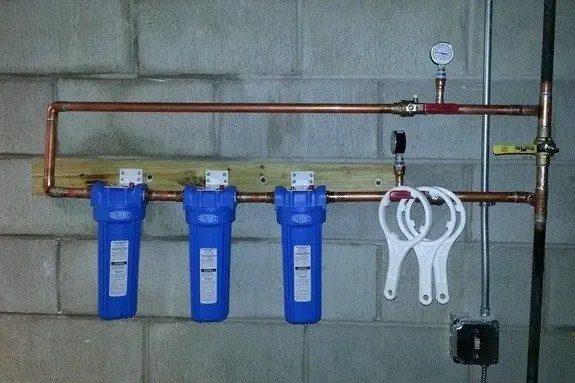 Replacement water filters are very reasonable in price, with customers benefiting from the ability to use filters from a variety of other manufacturers in addition to Dupont branded filters.
Final Verdict
The Dupont 15,000 Gallon Whole House Water Filter is a basic but effective water filtration system that is perfect for those homeowners who are looking for the utmost in flexibility.
As one of the cheapest whole house water filters available, we wholeheartedly recommend giving this system a go if this is your first foray into water filtration or if you are confident that this system provides all of the performance that you require.
If this model is not right for you, simply take a look at our buying guide where we provide more whole house water filter reviews to see if you can find a more suitable model.