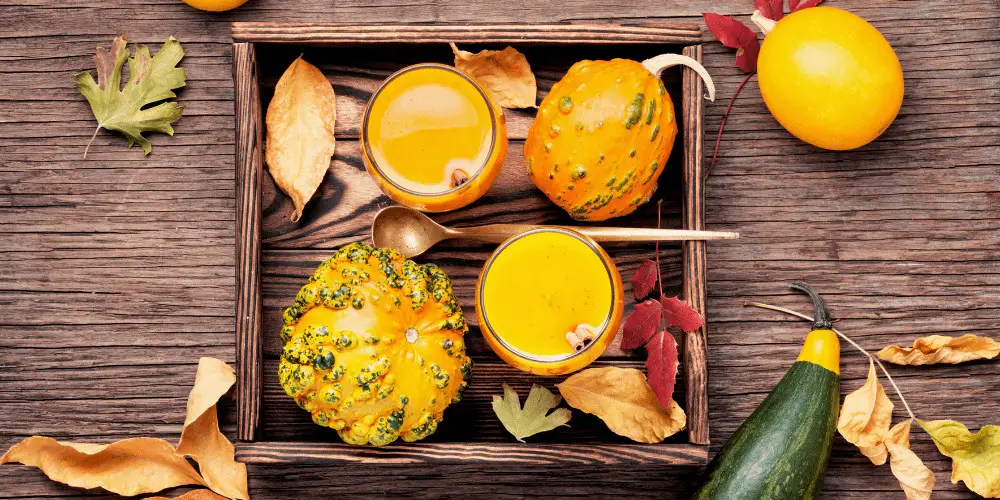 The autumn season is all about earthy shades around us. These earthy shades in the tones of brown, orange, yellow, and olive green give a very calming and rustic feel to everything. But, it is certainly not the time to just laze around…
You can be as vibrant and full of energy, the way you have spent your summertime. To kick start your day on an energetic note, you must enjoy a chilled and delicious glass of smoothies! Though the ingredients you will choose during this time of the year might differ from what you would have picked up during the hottest time of the year.
The best thing about the autumn season is that you get to enjoy the produce of fall, a few of the summer produce at the starting of autumn, and some winter fruits and vegetables during the latter half of the fall. Isn't it so amazing?!!
The one gadget you must have to compliment your health with the right nutrients is an effective and low-maintenance blender. After all, a smoothie is as good as its texture. A nicely blended smoothie with a smooth texture is something that will not only provide healthy nutrients to your body but will also please your taste buds. To ease your trouble of searching for a perfect blender, you can visit this link.
So, wait no more. Your track to good health and easy breakfast recipes is given as below.
The Autumn Green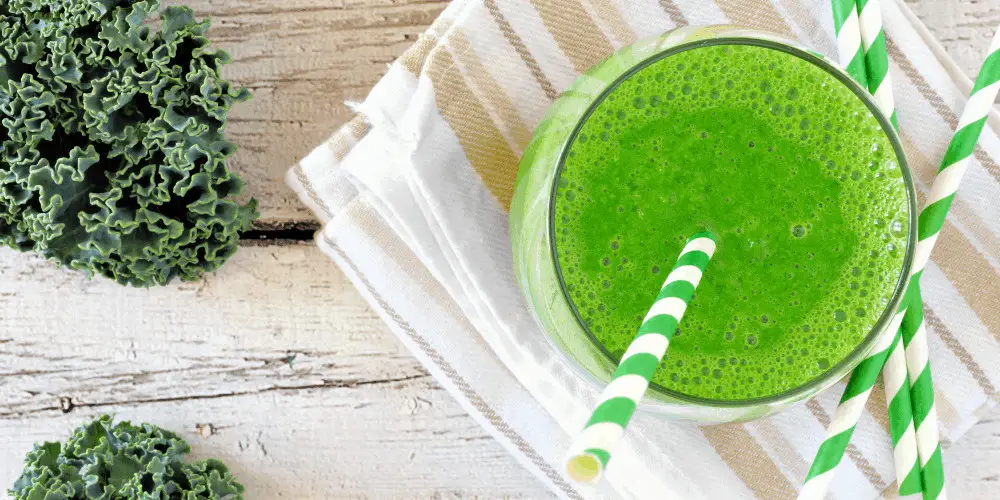 Ingredients
1 cup any unsweetened non-dairy milk (such as almond milk, coconut milk, soy milk, or hemp milk)
½ cup fresh pear, cubed
½ cup fresh kale leaves
¼ cup fresh basil leaves
½ cup fresh green apple, peeled, deseeded, and cubed
2 tablespoon green pumpkin seeds
¼ cup ice cubes
Why is it good?
This smoothie is packed with all things greens, except, of course, the milk. Using dairy-free milk is an amazing feature of this recipe. This category of milk is vegan, lactose-free, and cholesterol-free, plus has better calcium content than dairy milk. Pear contains nutrients that help to strengthen heart muscles and improve blood circulation. Kale is loaded with antioxidants, which builds our immunity and keeps the digestive system active. Pumpkin seeds are a good source of both omega-3 and omega-6 fatty acids. You will be so attracted to have it all at once, not only because it tastes fantastic. But also because it has such an amazing shade of green, which sadly we don't get to see too often.
The Orange Booster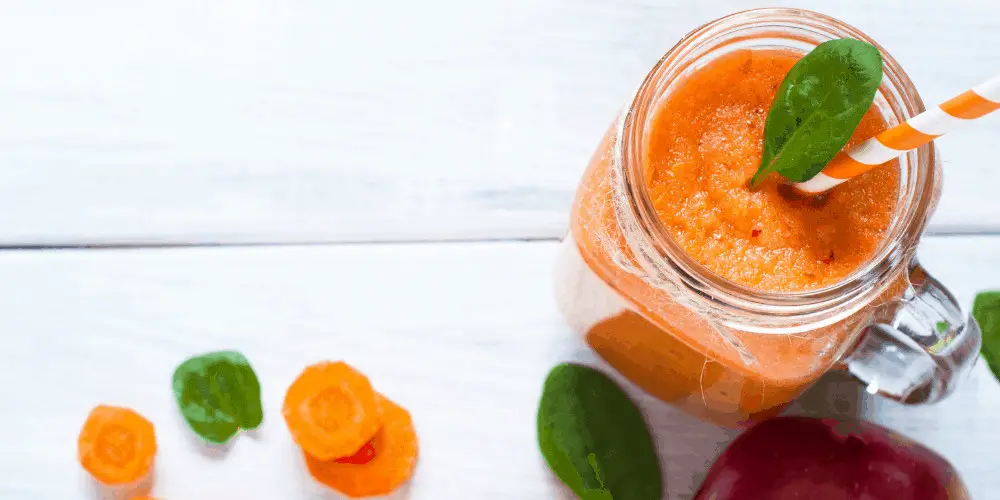 Ingredients
1 cup unsweetened almond milk
½ cup carrot, peeled and cubed
½ cup figs, chopped
¼ teaspoon ginger, peeled and grated
½ cup banana, sliced
¼ cup sweet potato puree
1 tablespoon flaxseeds
¼ cup ice cubes
Why is it good?
Almond milk is a great vegan product that naturally has the most minerals and vitamins required to build our immunity. In addition to that, the other healthy ingredients used in this recipe, including carrots, figs, ginger, banana, and flaxseeds are loaded with vital antioxidants, fiber, minerals, and vitamins that not only strengthen our immunity but helps to improve our overall health. These ingredients prevent diabetes, heart problems, various cancers, frequent cough and cold, and keeps our skin healthy!
Chocolate Paradise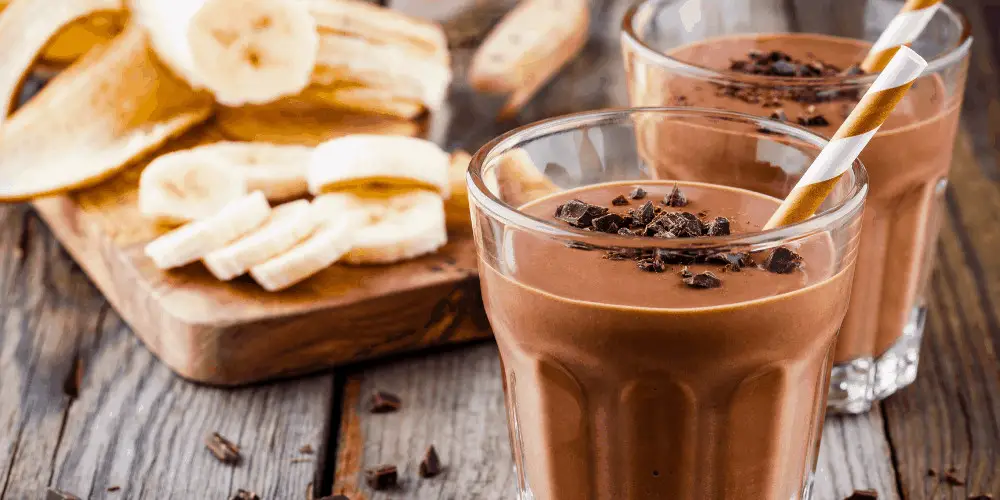 Ingredients
1 cup unsweetened almond milk
¼ cup dark chocolate, melted
¼ cup banana, sliced
½ tablespoon peanut butter
3 dates, pitted and chopped
¼ cup fresh mint leaves
1 tablespoon pecans
A pinch of salt (optional)
¼ cup ice cubes
Why is it good?
Dark chocolate offers proven health benefits by improving blood circulation, raises HDL cholesterol, and boosts immunity. Banana and peanut butter both are highly beneficial to maintain our nervous system, supports skin health, and strengthen the bones. Peanut butter lowers the risk of cancer, maintains heart health, prevents gall stones, and is a healthy replacement to the traditional fatty butter. Pecans, dates, and mint leaves are great for our skin health and suppress the action of free radicals. In a nutshell, this smoothie is the perfect blend to delay the signs of aging and gives you glowing skin!
Spiced Pumpkin Pick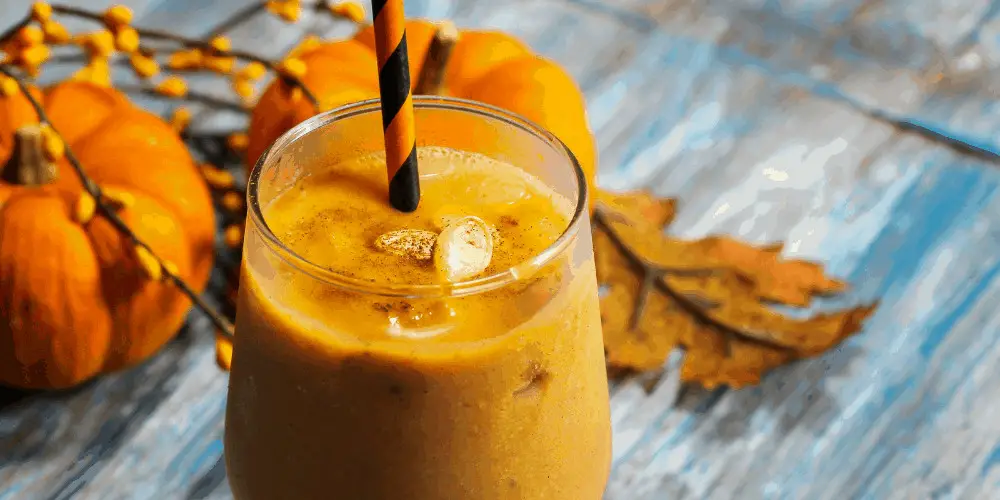 Ingredients
½ cup unsweetened almond milk
½ cup pumpkin puree
½ cup non-fat Greek yogurt
¼ teaspoon ginger powder
¼ teaspoon cardamom powder
¼ teaspoon cinnamon powder
¼ teaspoon nutmeg powder
1 tablespoon hazelnuts
¼ cup ice cubes
Why is it good?
Several healthy spices used in this smoothie not only enhances its taste but elevates its medicinal benefits as well. These spices, though used in small quantities, contain various essential compounds that offer anti-oxidative, anti-diabetic, antiseptic, antiviral, and anti-inflammatory actions. All of this helps to maintain our good health and keeps several illnesses at bay. Greek yogurt has been studied to help control our appetite, which will prevent untimely binge eating sessions. This recipe is also rich in protein, which is derived from almond milk, Greek yogurt, and hazelnuts.
Apple and Caramel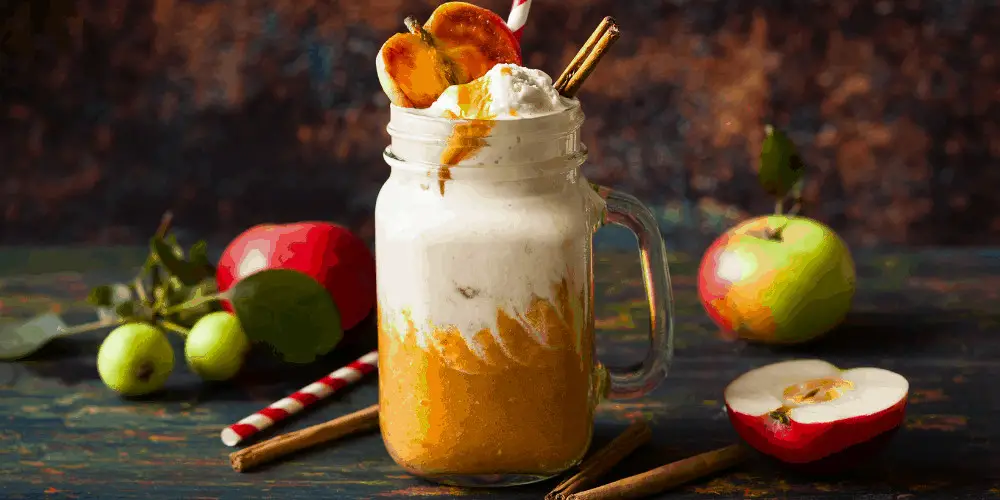 Ingredients
1 cup unsweetened almond milk
¼ cup apple juice
½ cup apple, peeled and cubed
¼ cup pear, cubed
2 tablespoons caramel syrup
¼ teaspoon cinnamon powder
2 tablespoon roasted almonds with peel
A pinch of salt (optional)
¼ cup ice cubes
Why is it good?
This smoothie recipe is a fabulous low-calorie alternative to the calorie-rich apple pie. Use as many fresh ingredients as possible for you to prepare this recipe, including the apple juice, caramel, and roasted almonds to enjoy unmatched flavors! This smoothie is pretty easy to prepare and is very healthy too. The potassium and fiber content of this smoothie is good. Also, it contains apple and almonds that offer proven benefits in boosting brain health. So, the next time kids at your place crave a sugary cold beverage, hand this beverage to them. It will remind them of their beloved dessert (the pie) and you of several health benefits!
Check also The Top 10 Smoothies for Diabetics.‍