Let's take a look at a particularly impressive brand of refrigerator filters – Samsung. Samsung may be best known for mobile phones and similar electronic products, but Samsung also manufactures all sorts of other products and appliances, not least of which are refrigerators. And as with any modern refrigerator, Samsung refrigerators usually come with their very own drinking water filters – the "Waterdrop" Samsung refrigerator water filters.
We'll make this a rather detailed review as we will go over all the Samsung Filters' features and extras, we will discuss how useful these features actually are to the potential customer – you – and we will also give you our thoughts on what are the reasons to purchase and not to purchase a Samsung refrigerator water filter (i.e. whether or not to consider Samsung's refrigerator water filters as a positive or a negative for Samsung's refrigerators as whole). Then, to wrap things up we will review what Samsung's customers think of their water filters before coming to our overall conclusion.
The Features And Benefits of Samsung Refrigerator Water Filters
Samsung refrigerator water filters are tested and certified against ANSI/NSF Standards 42 and 53.
Samsung's refrigerator filters serve fresh tasting water at very affordable prices.
Their fridge water filters are a genuine Samsung OEM product, capable of producing water and ice.
The Samsung fridge water filters use a revolutionized technology for water filtration that successfully filters most impurities and contaminants from the water.
The Waterdrop water filters protect the components of the refrigerator itself from potential sediment, thus greatly prolonging its life.
These water filters do not remove minerals which may be beneficial to your health, the way a lot of other water filters and refrigerator water filters tend to do. There's a reason why mineral water is sold around the world. It contains healthy minerals that can be used to supplement your body's needs. In the same way, tap water also contains potentially helpful minerals that your body can use. The Waterdrop refrigerator water filters are designed to let those minerals flow freely through the filter, while keeping the bad ones out.
Samsung refrigerator water filters use only a high-grade carbon block which removes over 99.999 percent of the potentially harmful contaminants that may be present in your water. And this "99.999%" figure is not a hoax. To better understand the 99 percent figure given with regards to the Waterdrop's carbon block filter, we have to get some of the basics of carbon filtration: There are two types of carbon filter: the activated granular filter, and the powdered block filter. A block of carbon powder has a much larger surface area than a bunch of carbon granules, since there are a lot more tiny bits of powder exposed to the water than there are granules in a given volume. As such, carbon block filters absorb way more contaminants than granular filters. This is precisely the technology Samsung's refrigerator water filters utilize in bringing you a drinking water that is free of 99.999% of its contaminants.
Samsung refrigerator water filters are made out of high quality materials and utilize a great construction and design. This is to be expected from a technological leader such as Samsung, which is bound to use the latest manufacturing techniques to produce a quality and reliable product.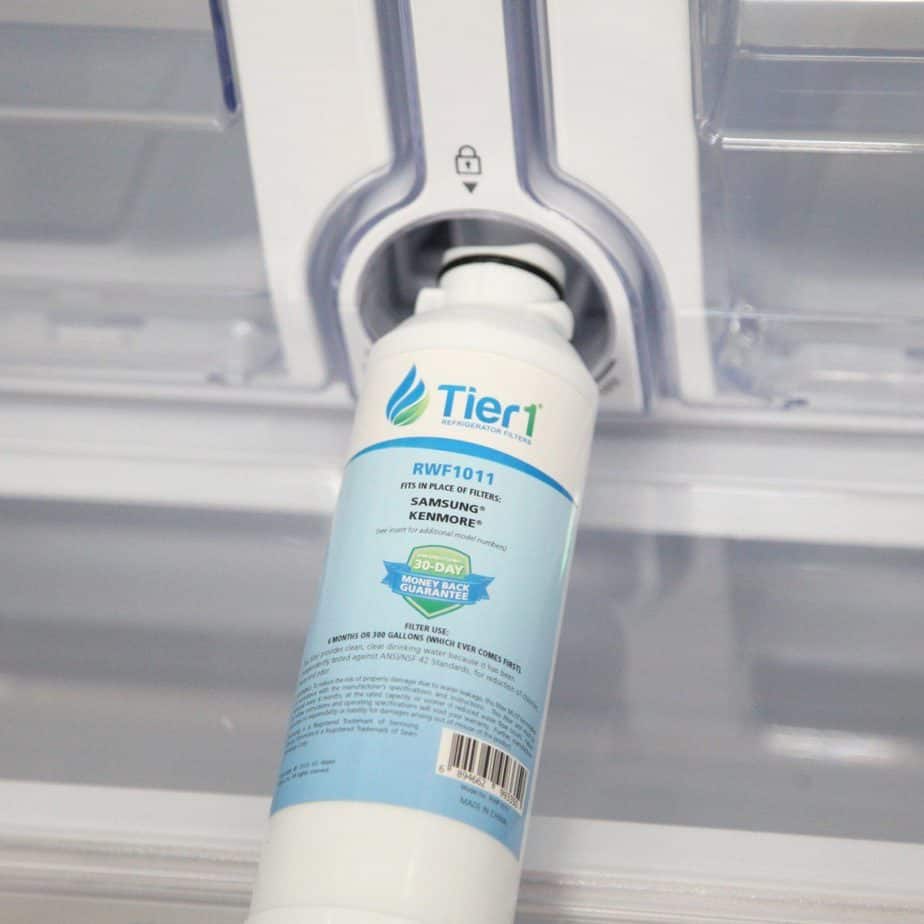 The Models Of Replacement Samsung Water Filter You Will Most Likely Need
Manufactured in South Korea, the DA97-11433A is an O.E.M authorized part that fits in most Samsung refrigerator models. It also comes with a 90-day factory warranty to guarantee its quality.
Works with almost all Samsung refrigerator models.
Easy to assemble and install.
Safety certified replacement water filter.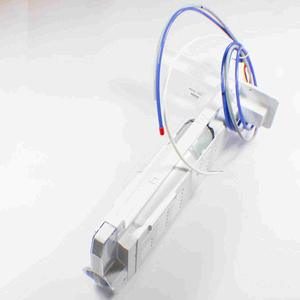 The DA29-10105J is an inline water filter designed to fit in all Samsung refrigerator models with an external cartridge, as well as some other brands including LG, KitchenAid, Bosch, Siemens, Daewoo, Whirlpool, Maytag, and more. This NSF certified O.E.M replacement part needs to be replaced after every six months. It works at a flow rate of 1.9lpm, between 4.4 and 38 degrees Celsius and a pressure of between 25 psi and 125 psi. The filter uses Activated Carbon Function technology and can filter up to 2464 liters of water within six months.
Filters water fast and efficiently.
Easy to install.
Has a great price / quality ratio.
A notable negative is that it has a short connector tubing.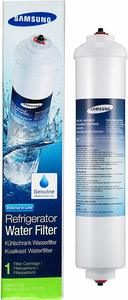 This model is tested and approved by ANSI / NSF. It is created from durable materials and typically lasts for up to 6 months. Aqua-Pure Plus is compatible with most Samsung French Door and side to side fridges.
It is compatible with many Samsung fridge models and other brands.
It is tested and ​certified for safety.
It is relatively cheap.
One notable negative is that there is no instruction manual accompanying your purchased product.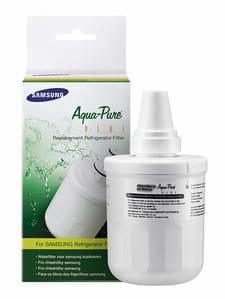 This Swift Green filter is compatible with other Samsung models and other refrigerator brands. It uses carbon to reduce sediment, chlorine, cysts and lead and in the process better the taste and odor of water, as well as to protect your fridge. Like other filters of the brand, this model is NSF safety, and functionality certified and sports a simple design for ease of filter installation.
The filtration process of this water and ice filter is relatively fast.
It offers good value for money.
It is made out of an environmentally friendly material.
One notable negative is that this filter is only compatible with a limited number of refrigerators, most of which are Samsung.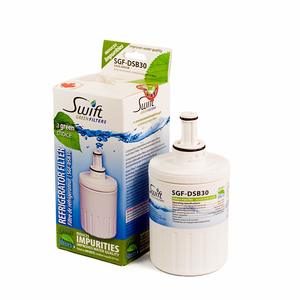 The Aqua-Pure Plus water filter series is designed to offer clean and clear drinking water, free of metals, cysts, and other contaminants. This filter uses revolutionized filtration technology, which uses carbon, to filter most of the sediments away. It is NSF 42 tested and approved ensuring safety. The filter lasts for approximately six months.
It offers fast filtration.
Produces sweet tasting water.
One notable negative is that it is not easy to fit in many Samsung side by side refrigerator models.
Another negative is that some of the design tweaks tend to confuse the customers.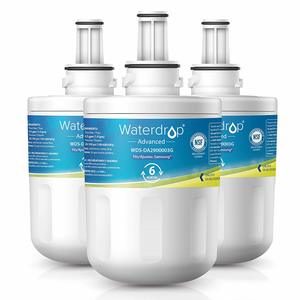 This is a genuine Samsung O.E.M replacement water filter designed to fit into a high number of Samsung refrigerator models and other refrigerator brands. There are two types of packages to ensure better compatibility with Samsung French Door and sidebyside refrigerators. The Samsung DA2900020B model is designed to deliver clean and clear water; it utilizes revolutionized technology to remove 99 percent of contaminants.
Filters water fast.
Great for a budget water filter.
One notable negative is that this filter is only compatible with a limited number of refrigerator models.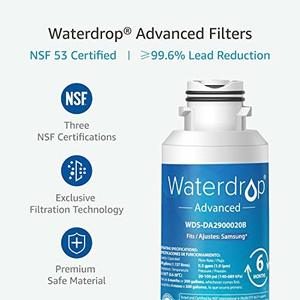 The Aqua Pure Plus is a high-efficiency filtration refrigerator water filter thanks to the revolutionized filtration technology that uses carbon as a filterer. The carbon block used in the filter sports millions of active sites giving it the ability to filter contaminants completely. Even better, the filter can break contaminants catalytically just like a catalytic converter.
Works efficiently in a wide range conditions; temperatures and pressure.
Best value for money.
One notable negative of this filter is that it has a rather limited usage as it only fits two Samsung models perfectly.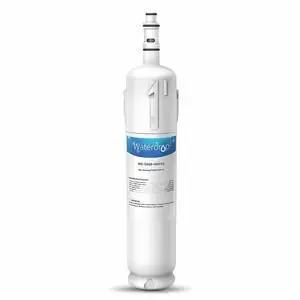 ​How Do You Replace A Samsung Refrigerator Water Filter?
The process for Samsung refrigerator water filter replacement varies as each model of refrigerator differs in the placement of its internal water filter. Naturally, this will also mean that every model will have a different replacement procedure.
The first step is to locate your existing water filter.
Once you have, make a note of how it has been inserted into the filter housing.
Remove the filter and set it to one side before then inserting your new filter.
Each replacement filter will come with a set of instructions should you encounter any difficulty during the installation of your new fridge filter.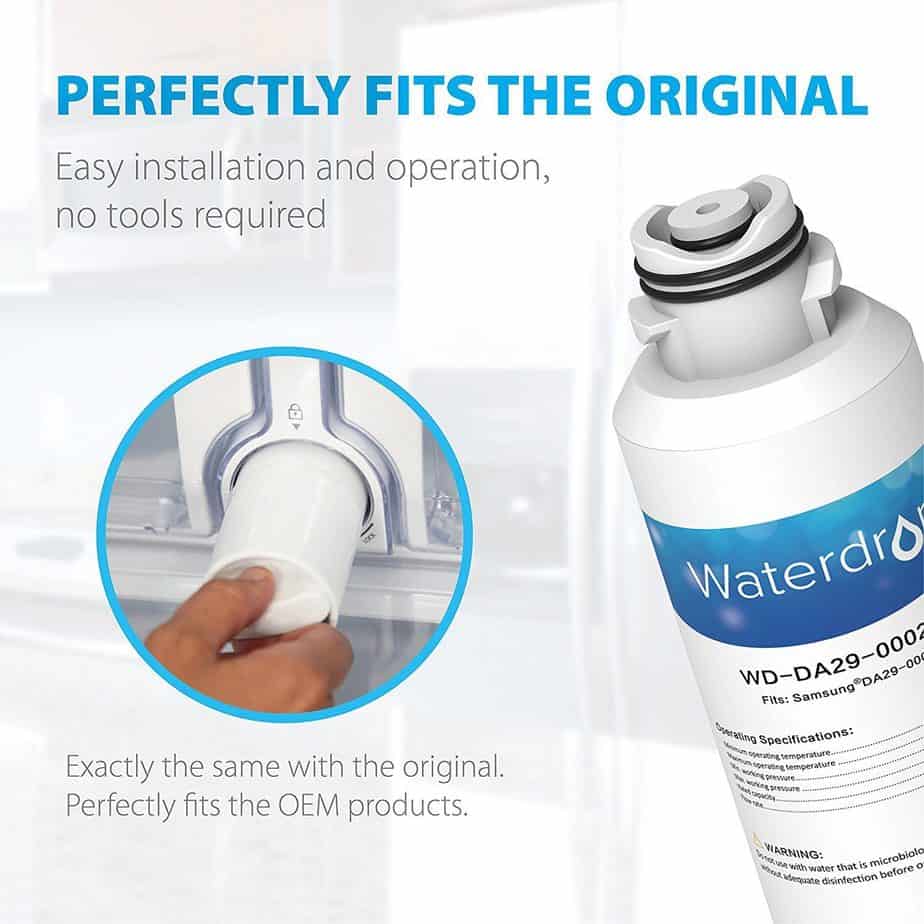 ​Final Verdict
As you can see, each Samsung refrigerator water filter tends to vary in specification. While all of them are made out of quality materials and have a great design, not all of them are suitable for every refrigerator, and some are indeed slower at filtering water than others.
So, while we can safely recommend looking into Samsung refrigerators and Samsung refrigerator water filters, our key advice is that you should always research whether the filter you're look at is actually suitable for your refrigerator and your needs for fresh filtered water.
More information on each individual filter cartridge can be found over at Samsung's official website.
‍