Buying a faucet water filter is one of the best things you can do for your family's health. A good faucet water filter (also known as a tap water filter) easily filters up to 100 gallons of water, which is equivalent to approximately 2 – 3 months of daily use and can save you up to 750 standard 16 oz. plastic water bottles. The result is a great single point of use water filter when compared to heavier duty whole house water filtration systems.
How do we find a high-quality faucet water filter, however? With so many products on the market right now, distinguishing between the good ones and the ​rubbish ones can be tricky, which is why we've compiled a list of the 7 best faucet water filters we could find. Take a look!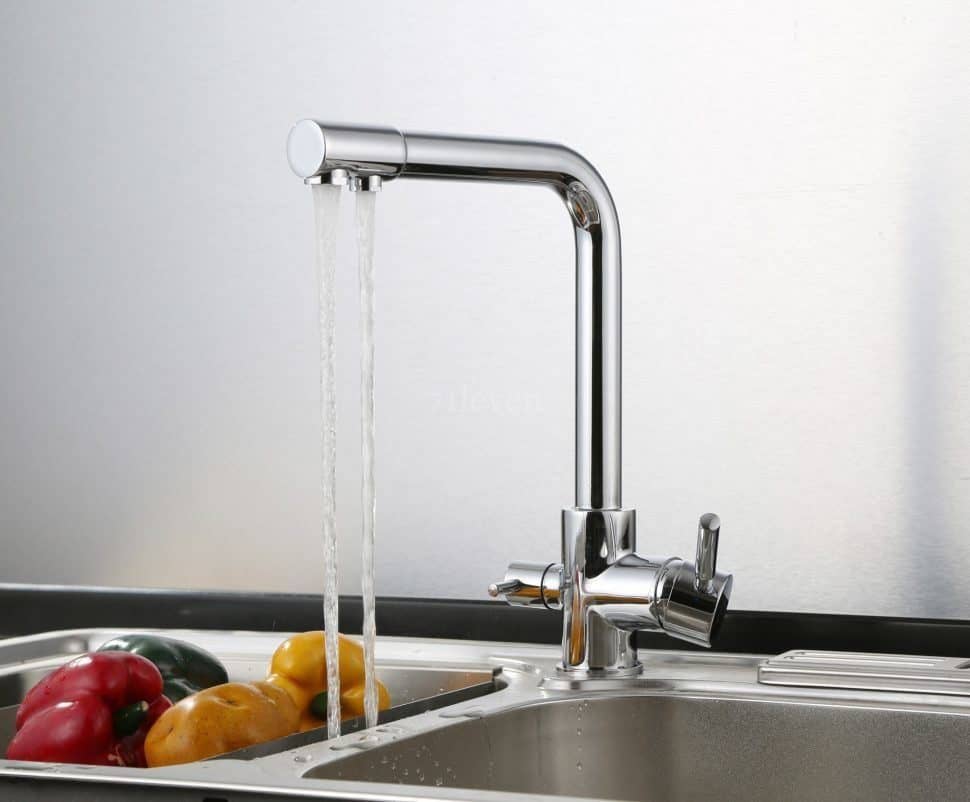 ​Best Faucet Water Filter Reviews 2021
Our Recommendations

​Brita ​are first to make an appearance on our list with their ​faucet mounted drinking water filter. This filter is great at reducing sediment, chlorine, cysts, linden, benzene, asbestos, mercury and lead, some of which is sometimes present in tap water. With this water filter you get both a highly efficient and performing filter system, as well as much better quality tasting and odor-free tap water.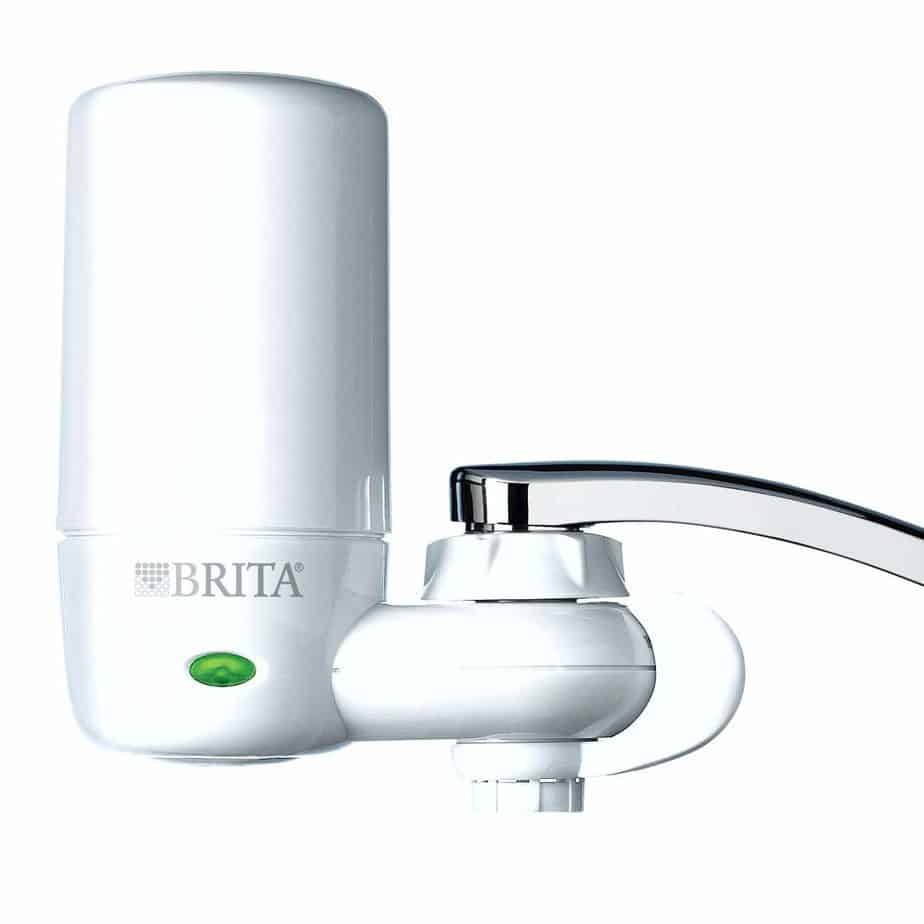 ​This water filter utilizes Micro ban Antimicrobial protection that is built into the cartridge housing and the media, resulting in greatly prolonged filter life. The filter mouth itself is very easy to install and reinstall on most standard sinks and faucets.
What we did notice is that at high pressure it may splash water, depending on the sink faucet.
​Engdenton are here too, which a great runner-up thanks to their superb faucet water filter. This faucet filter is certified to remove 99% of lead, and over 70 other contaminants including 96% of mercury and 92% of pesticides. Its BY-SA-055C cartridge can clean up to 100 gallons of water, which is enough for 2 to 3 months of daily use of average ​water filter systems.
It also has a 360-degree swivel that allows it to easily fit onto most standard kitchen sinks. Unlike a lot of other products on the market, this tap filter is made of high quality modern materials and has a great design and construction.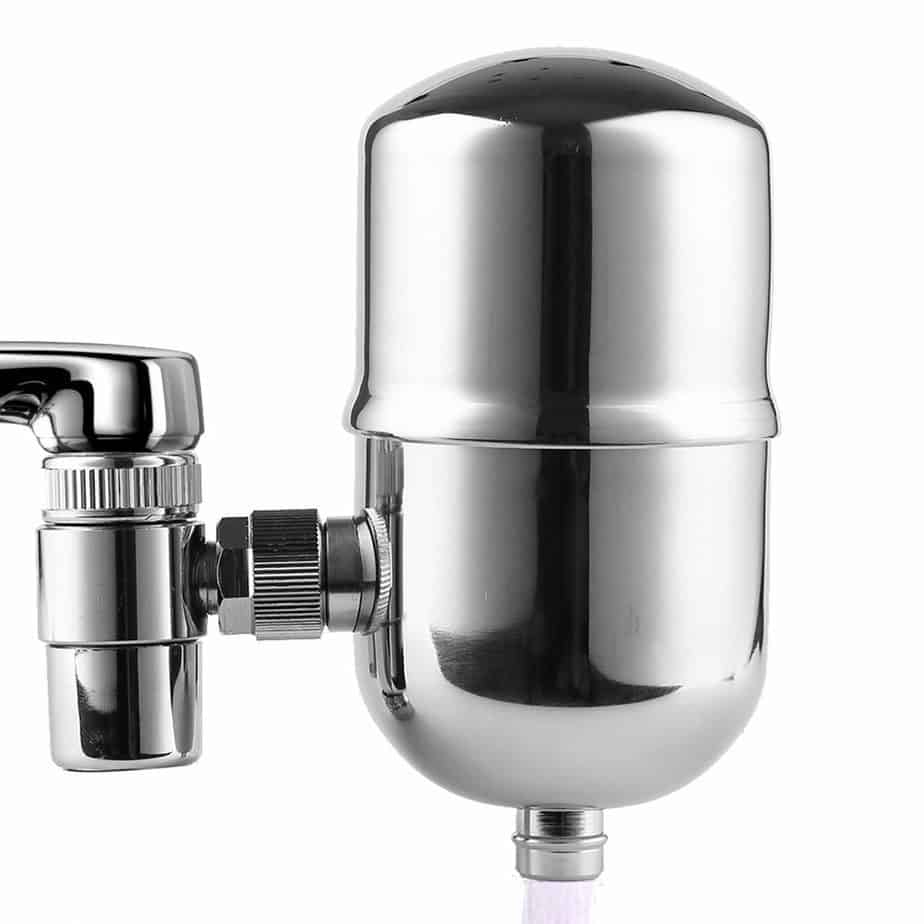 ​The result is that it can work perfectly in almost all conditions and in any kitchen. For example, the shell is made of environmental protection food grade ABS plastic. It's also made with a zinc plating process and results in no discoloration, no rust and is overall very durable and high in quality.
We did notice that the filter cartridges sometimes rattle.
​Next up we have a great Culligan faucet mount filter. The FM-25 has an advanced water filtering system that uses a 0.5 gpm flow rate at 60 psi. This water filter system has a simple diverter tab that allows for the quick switching from the high-quality filtered water back to regular tap water. This is very useful if you often use your sink not only for drinking water, but for cooking or cleaning water, as you don't necessarily need to filter it then.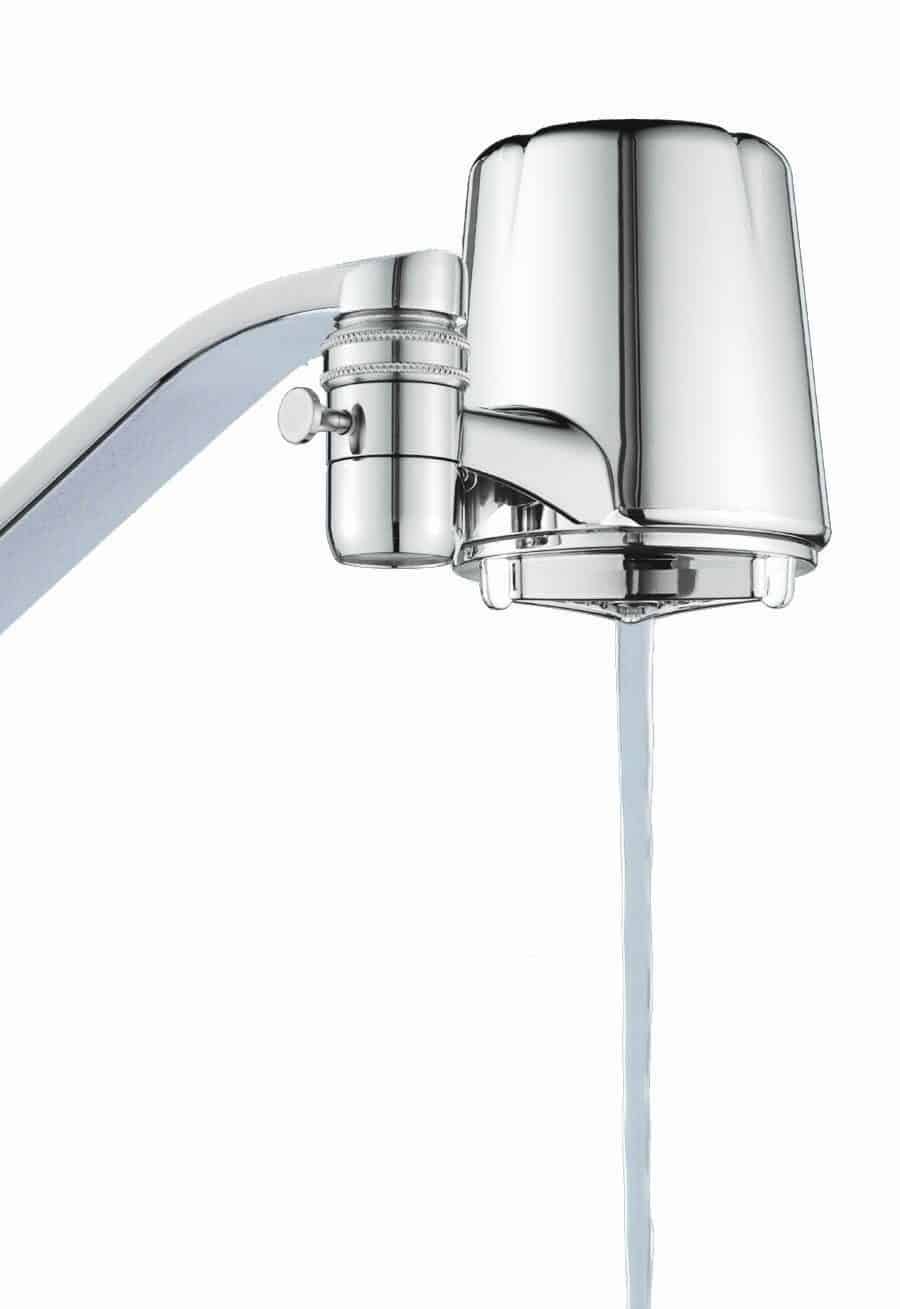 ​What also makes the use of this filter much smoother is the fact that its installation and reinstallation are very quick and easy and require no tools whatsoever. The same goes for the cartridge filter, of course. You can use the FM-25 advanced filtration filter to reduce the amount of atrazine, chlorine, lindane, lead, particulates class I and turbidity while removing bad taste and odors from your tap water.
We found this model to be a bit bulky and doesn't fit perfectly on all sinks.
​Waterdrop are another great entry on our list, with their 320 gallon faucet filter System. ​This model is designed to be ergonomic, sporting a high-quality construction that will last for years. It is not just sturdy, however, but also highly efficient – it easily removes sand, rust, sediment, dirt and reduces the amount of chlorine taste and heavy metals in tap water. This includes arsenic, lead, mercury, fluoride, chrome and others.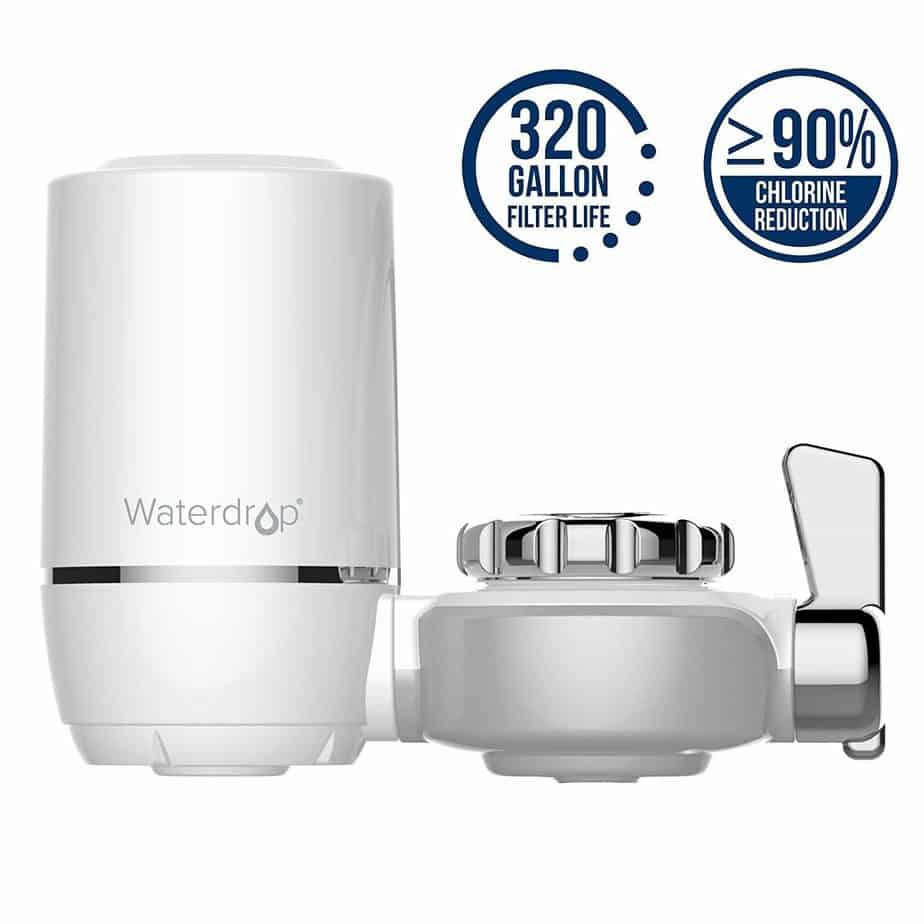 ​The high capacity filter will provide for around 6 months of average usage, making this tap filter one of the most economical we have tested. The attachment head itself fits most standard sinks with 6 adapters available in addition to a special fitting included in the box.
No leaks, a fast flow rate and the ability to switch between filtered and unfiltered water make this model one to consider.
​PUR have of course made an appearance on our list with this advanced tap water filter. The MineralClear filter filters the water from the tap through natural minerals, resulting in crisp and refreshing tasting water. Keep in mind, however, that this PUR tap faucet water filter system is only usable with "Advanced" and "Advanced Plus" water filters.
It also has a very useful built-in electronic filter life indicator that can tell you when the filter needs to be replaced. This PUR faucet filter is also very easy to install – it requires just one click and is also not a problem to remove and replace.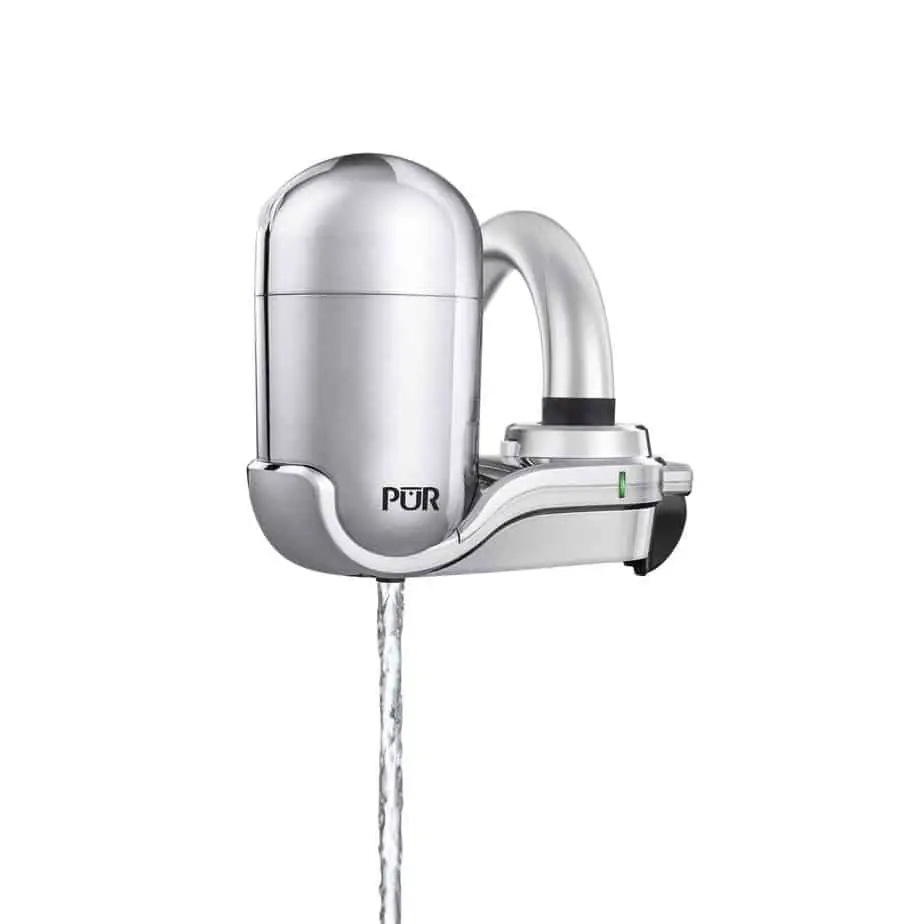 ​Additionally, this water filter also has a 360 degree swivel that allows the filter to fit perfectly on almost any sink you might have. What's probably most important, however, is that PUR has used only the highest quality of materials for the construction of this water filter – this allows it to stand up to the toughest conditions and the most intense use you can put it through.
We found the filter to be rather heavy which might cause it to flop a bit, depending on the sink you place it on.
​Our next product is another great PUR faucet water filter. This chrome horizontal filtration mount utilizes the Maxion filter technology. This allows it to filter over mineral cores, resulting in a fresh and crisp taste of your tap water. This great filtration-system is certified to remove 99% of lead, and over 70 other contaminants including 96% of mercury and 92% of certain pesticides.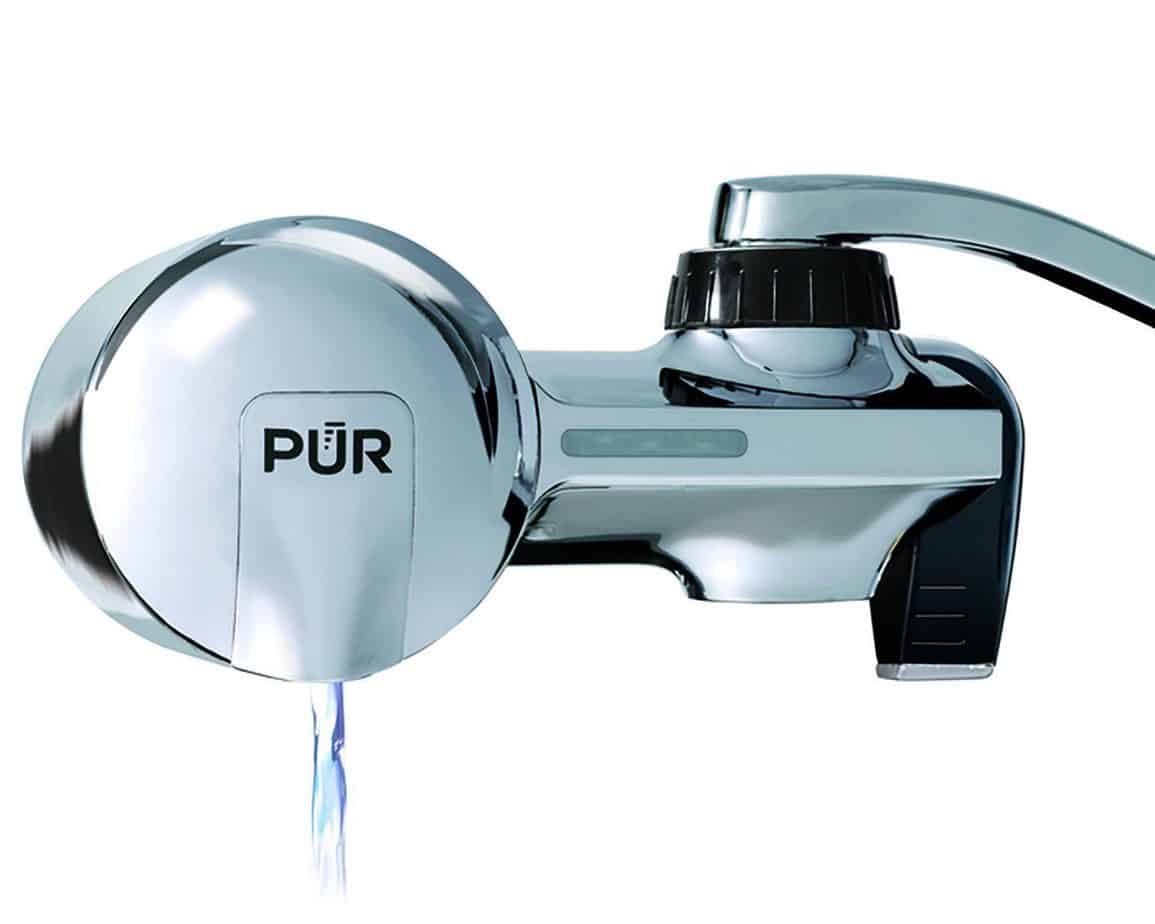 ​What's also great is that like the previous PUR filter, this one too has a visible electronic filter change light for enhanced filter compliance and 60% improved battery life. It also has an improved leak proof connection and an improved grip that help it fit as securely as possible on a lot of sinks and faucets. 1 filter of this filter system works for up to 100 gallons of clean water, or 2 – 3 months of daily usage.
The filter is rather big – bigger than the one on the photo – and takes quite a bit of sink space.
​To no one's surprise, Brita are on our list as well, and deserving so. Their On Tap chrome water faucet filter system is both efficient and convenient to use. It reduces the presence of lead, chlorine, asbestos, benzene, and trichloroethylene. It also features an extra layer to trap sediment and – of course – it completely removes any unpleasant taste and odors from the water.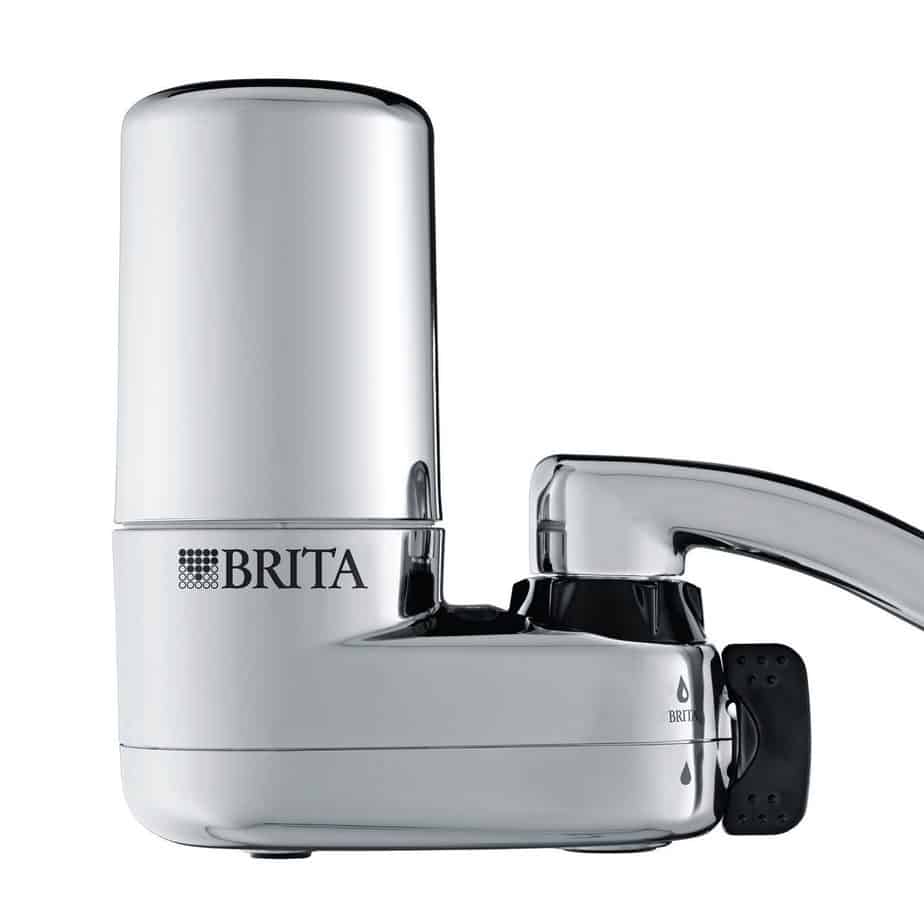 ​What's more, this system also has a convenient status indicator that helps by letting you know exactly when you need to replace the filter. Just 1 of these Brita water filters is enough for up to 100 gallons of water or 2 -3 months of daily use. This alone can save you the use of up to 750 standard 16 oz. plastic water bottles.
We found that the design needs improving as the switch is relatively easy to break.
Faucet Mount Water Filter Buying Guide

Faucet water filters have become increasingly popular as an efficient and convenient way to filter water straight from your kitchen tap. But with that said, this doesn't necessarily mean that they're the right solution for every household, with several points for consideration that need to be taken into account before making your purchase.
Our job as an authority on water filters is to provide you with all of the facts, in turn assisting you in coming to an informed decision. And with that in mind, we're going to evaluate several household usage profiles and state whether this type of water filter for faucet is the best solution, which should in turn help you to draw a conclusion as to whether or not this type of water filter is right for you and your home.
How Does a Tap Faucet Water Filter Work?
Faucet water filters are a small and compact device which are designed to effectively bolt onto your kitchen faucet. Rather than dispensing water through your tap's spout, it will instead be routed through the attached filter which is where the filtration process takes place.
Tap faucet water filters are simply the most conv​enient type of water treatment system available.
Installation and Use
Unlike other types of water filter, the faucet mounted water filter variety are designed to completely replace the flow of water through your kitchen tap, rather than provide you with an additional tap with its own switch.
The benefit to this type of installation is that it is as neat as you can possibly get, removing the need to store anything underneath your sink or on your kitchen counter. The nozzle or spout of each kitchen tap is relatively similar in shape, size and profile, making the installation of faucet-filters a breeze.
To use your new water filter, simply install and activate the internal filter before turning on your tap via its controls. The performance of this type of filter can be improved further by the installation of a home water softener.
Water Filtration Speed
​The speed at which water is filtered is a factor for many homeowners as it directly dictates just how much water can be filtered and dispensed in a given amount of time. To that end, these filters occupy the median, filtering water at a similar rate to countertop water filters.
In real terms, you're looking at approximately 90 seconds to dispense a gallon of filtered water.
Home Water Usage Profiles
As with every filter of this type, water is filtered on demand, meaning that you will need to utilize a separate container to capture and store filtered water for later use. You will find three typical usage profiles in the next section to understand where you fit based upon your requirements.  
Low Usage
A low usage profile could be considered as any household with up to 2 occupants who consume the recommended daily intake of water. If your demands for filtered cooking water are also relatively low, this type of water filter is an ideal choice for you.
Medium Usage
A medium usage profile could be considered as a household of four people, each of whom drink an average amount of water daily as well as preparing meals with filtered water on a regular basis. Any household falling into this category would also be an ideal candidate for this type of water filter.  
High Usage
A high usage profile would be considered as any household consisting of four or more people who utilize a large quantity of filtered water for drinking, making hot and cold beverages and preparing meals with.
In you fall into this category, we would recommend looking into an alternative form of ​filtering water such as one of the best under sink water filters or simply preparing yourself to store the water you need for use at a later date.
​Water Filtration Capacity
Each filter is capable of filtering a certain quantity or volume of water before it requires replacing. This duration of time passed or quantity of water that can be filtered is usually always expressed as months and gallons.
The smallest faucet filters are capable of filtering around 40 gallons of water whereas larger more advanced models can filter up to 120 gallons. This translates to anywhere between two to six months of high quality water filtering. A replacement filter is readily available for most models. Activated carbon rather than a reverse osmosis filter is what you will be looking for.
Water Filtration Quality
Water filtration is governed by a set of regulations which most manufacturers adhere to. The level of certification that each water filter achieves denotes exactly what it is capable of removing (filtering) from water.
The two most common certifications available for home water filtration devices are;
NSF/ANSI 42: Sufficient for the removal of chlorine, iron, magnesium, hydrogen sulphides ​and other similar substances.
NSF/ANSI 53: Sufficient for the removal of arsenic, asbestos, copper, lead, mercury in addition to organic and inorganic chemical compounds and bacteria.
NSF 53 is a far more robust standard and is capable of removing a significantly increased number of contaminants from water. If you live in an environment with a poor water supply, definitely seek out such a model. If you are happy to just improve the taste of your water and remove odours, NSF 42 will be sufficient.
The Advantages and Disadvantages of Faucet Water Filters
Every method of ​filtering water has its compromises. In this section, we'll cover the salient points by highlighting the benefits and weak points of this type of filter.
Faucet Mou​​​​nt Filter Pros
Cost. Tap water filters are some of the cheapest and most cost-effective water filtration products available. If you're on a budget and are unable to stretch to other types of filter, these models should definitely be a consideration.
Ease of Installation and Low Maintenance. Very simple to install and only require periodic replacement of the internal filter.  
Efficiency. Not the fastest or most comprehensive type of water filter available but a good middle ground if you possess a suitable usage profile. If you're after greater performance, you should consider reverse osmosis systems instead.
Faucet Mo​​​​unt Filter Cons
Absence of Temperature Control. As you would expect, there is no filtering capacity for chilling water during the filtration process. Instead, the water dispensed will be the same temperature as your tap water.  
Absence of Water Storage. The lack of an option for water storage might be a deal breaker for some but it is a feature that isn't present in any water filter of this type.
​Our Verdict

And there are our suggestions for the best faucet water filter currently available to buy. Of course, with new models being made every year, our recommendations may change, but these 7 products are of a guaranteed quality that you won't regret purchasing for your home.
​We ourselves are partial to the Brita filter because of its Micro Ban Antimicrobial product protection and great efficiency. The other 6 water purifier faucet are of the highest quality too, however, so you won't be making a mistake with any of them.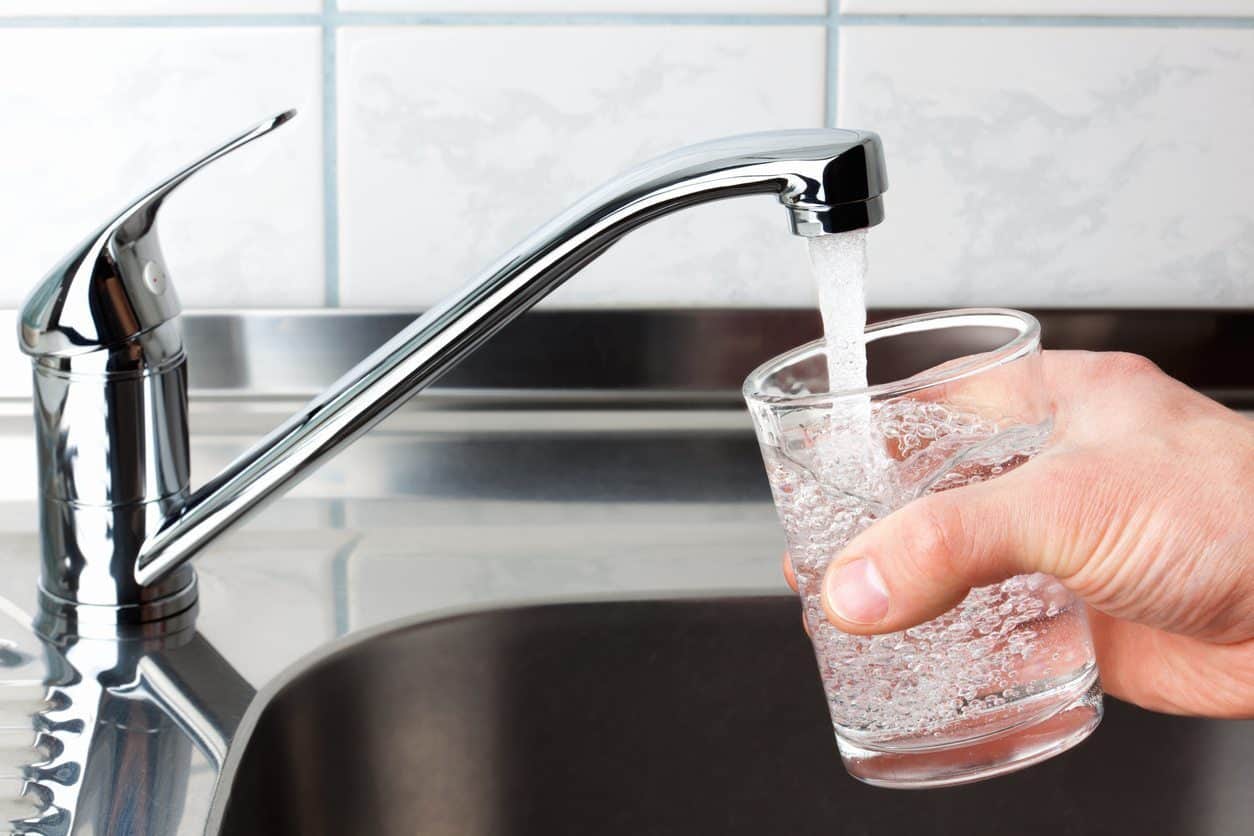 ​Now that you have finished browsing our product review guide in addition to our buying guide, you should now be in a position to decide whether a faucet water filter is the right choice for your water filtration needs in addition to being able to confidently buy the best water filter faucet for your requirements.
Resources:
​CDC