Buying an under sink water filtration system for your home is a decision that is deceptively simple. Some homeowners are put off by the perception that installation is difficult, but it really isn't and the benefits vastly outweigh the time taken to get your new system up and running.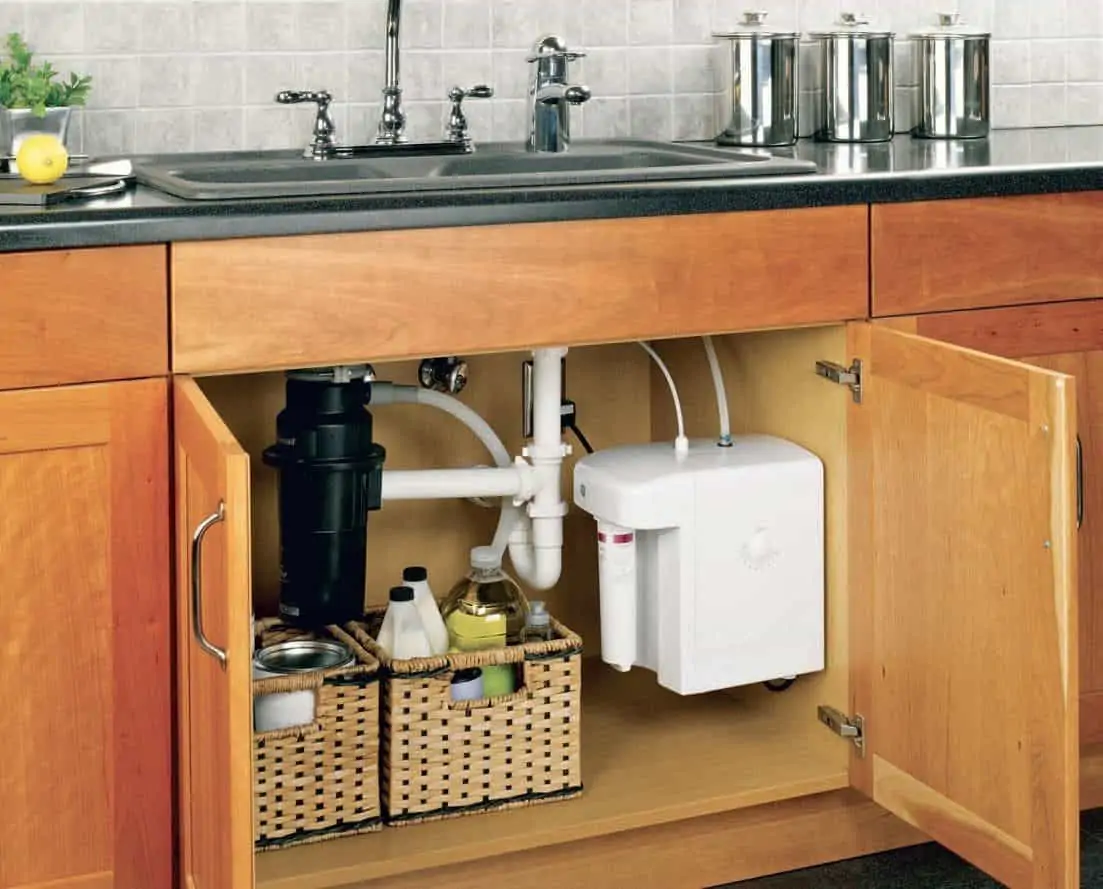 ​A good under sink water filter is exceptionally easy to install and will require no professional help, but just a simple understanding of the provided guide manual. And they are not too expensive either ​- especially when you consider the amount of water an under sink system can purify and compare it to faucet water filters, countertop water filters or against bottled water from the store, you'll see how efficient these under sink filters can be.
They may not improve your shower water the way a whole house water filter does, but when it comes to your drinking tap water – your life will become immeasurably more convenient and healthier with an under the sink water filter.
Best Under Sink Water Filter Reviews 2021
Some of the more significant flaws of below sink filters are that poorer models tend to slow the water flow (water pressure). Some are even known to waste water. This is not always the case, however, and there are a lot of great under sink water filtering systems that operate perfectly without the slightest hitch, whether they are based on reverse osmosis technology, activated carbon technology or otherwise.
​To help you along the way, we have researched, tested and reviewed the best under sink water filters we could find on the market right now. Give them a look, your new water filter could be right here.
Our Recommendations
​Woder score the top spot on our list with their wondrous 10k-Gen3 Ultra high capacity direct connect water filtration system. With a capacity of up to 10,000 gallons, this filter can last you as much as 3 years before you need to replace it. And if this sounds like a product that will probably require a lot of time to install, don't worry – the Woder 10k-Gen3 filtration system is easily installed in a matter of just 5 minutes even if you have never installed an under sink water purifier before.
​It comes with everything you need for its installation – a filter, a head with a built-in valve, inlet hose – 3/8 female compression by 1/4 standard pipe thread, outlet hose- 3/8 m compression by 1/4 standard pipe.
​​This great filtration system easily eliminates lead (99.9%), heavy metals, chlorine (99.9%), chromium 6, mercury, volatile organic compounds, carcinogens, and other contaminants, as well as turbidity, odors and bad tastes, so you and your family enjoy pure, healthy, spring-fresh water from the tap.
All the materials and the construction of this Woder filtration system are approved by the NSF and tested in independent laboratories to guarantee that it corresponds with the ANSI standards (American National Standards Institute).
If you're looking for the perfect under-sink water filter, look no further than this model.
​Taking second position is iSpring with their RCC7 High capacity under-sink system. It utilizes a 5 stage reverse osmosis system and water softener process, which removes up to 99% of over 1,000 contaminants, including lead (removes up to 98% of lead), chlorine, fluoride, arsenic, hormones, asbestos, calcium, sodium, bacteria, giardia, viruses and more in conjunction with its activated carbon filters.
​This ​reverse osmosis drinking water filter system is certified as "Gold" (highest possible ranking) by the Water Quality Association (WQA) against NSF/ANSI standard 58, which ensures a high reliability and low maintenance for many years to come. With this activated carbon iSpring water filtration system you can experience a clean, safe, and tasty glass of water every time you turn on the faucet. Do you want your ice cubes to be crystal clear? To have fresher tea and coffee? Better tasting foods and healthier baby formula? With this iSpring system, they will be even better than they are with most ​shop bought bottles of water.
iSpring offers an easy do-it-yourself installation that allows this reverse osmosis filter to fit underneath a standard basin. It is also backed by 3-year Manufacturer Warranty with lifetime support line from Alpharetta, GA USA.
​Middle of the pack is this high-quality product from APEC Top Tier 5 stage ultra-safe water purifier system. A bit pricy at first glance, this reverse osmosis system drinking water filter is designed and assembled in the U.S. to guarantee the health and comfort of your family. It comes with a 100% lead-free faucet and has an FDA Certified JG Food grade tubing to provide safe, contamination-free pure water.
APEC Water Systems' technology guarantees the removal of up to 99% of water contaminants including removing chlorine, arsenic, lead, fluoride, heavy metals, bacteria, virus, and 1000+ contaminants. Their premium activated carbon water filters work great with both tap water and well water, which can't be said about most other beneath basin filters.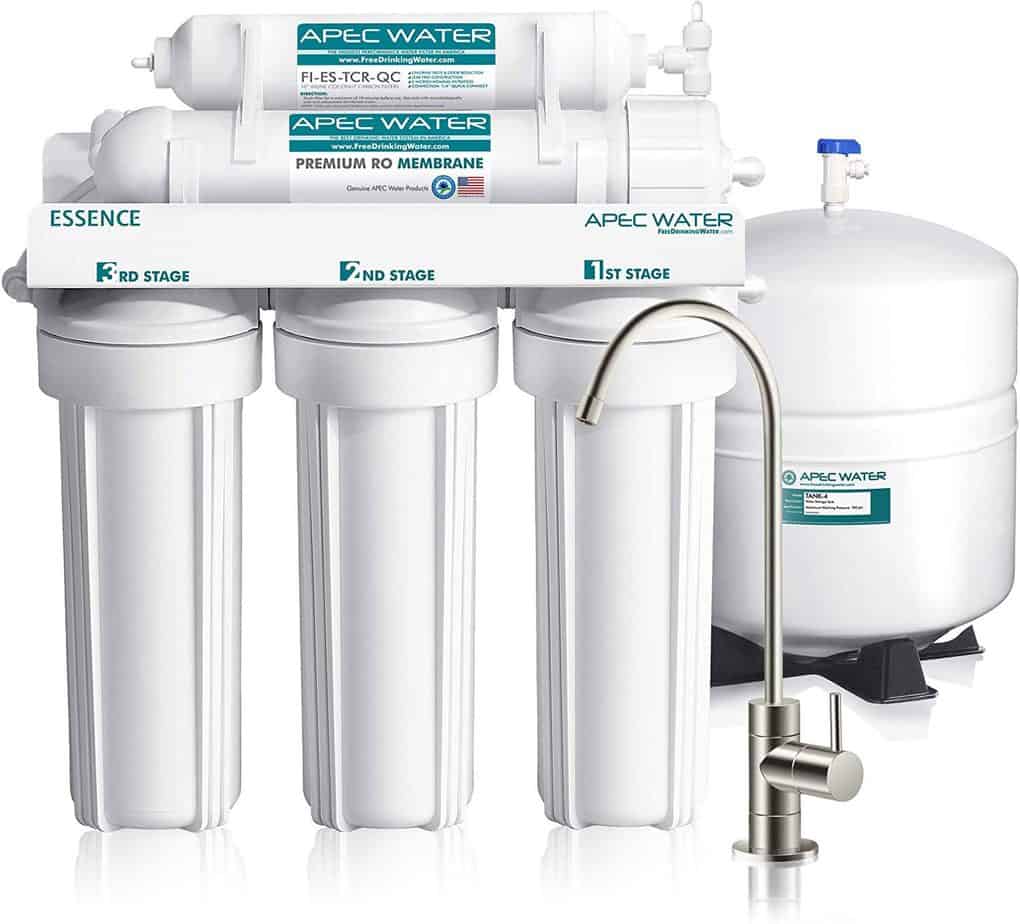 ‍
​​APEC is a WQA certified manufacturer, guaranteeing a trouble-free, noise-free system for long-lasting, dependable, pure drinking water. To further accent this point, they are giving a 1-year warranty and money-back guarantee, no questions asked. The tank of the filtering system has dimensions of 11 inches x 11 inches x 15 inches. Both the tank and the plumbing of this system fit perfectly underneath any standard sink.
​Filtrete are sitting comfortably near the middle of our list with their Advanced under sink quick change filtration system. This great drinking water filter system reduces microbial cysts, chlorine taste & odor, sand, soil, silt, rust and sediment based on 3M Testing. It doesn't come with a dedicated faucet but it easily connects to any kitchen or bath faucet.
The installation is exceptionally easy and quick – for just ~30 minutes you will guarantee yourself about 6 months of crystal clean water at home. It also maintains the full water flow of your faucet, meaning that there won't be any leaks or waste with this filter.
​The Filtrete advanced under counter water filter system is also NSF certified Standard 53 and 42, guaranteeing the effectiveness and efficiency of its work.
If you are looking for an easy-to-install budget option for your kitchen basin, Filtrete is one of the first options you should take a look at.
​​Last but not least, Aquasana makes an unsurprising appearance on our list as well with their 3 stage under sink water filtering system. Accompanied by a Brushed nickel faucet, this water filtration system removes up to 99% of 77 contaminants including lead, mercury, pesticides, pharmaceuticals, and more. It is also NSF certified to standards 42, 53, 401 +P473, which is more than enough of a guarantee that this system will not leak any contaminants back into your water.
The filtering system also has zero additives and results in zero water waste, which is great both for your water bill, as well as for the environment, with the latter being especially important for a lot of people from states like California.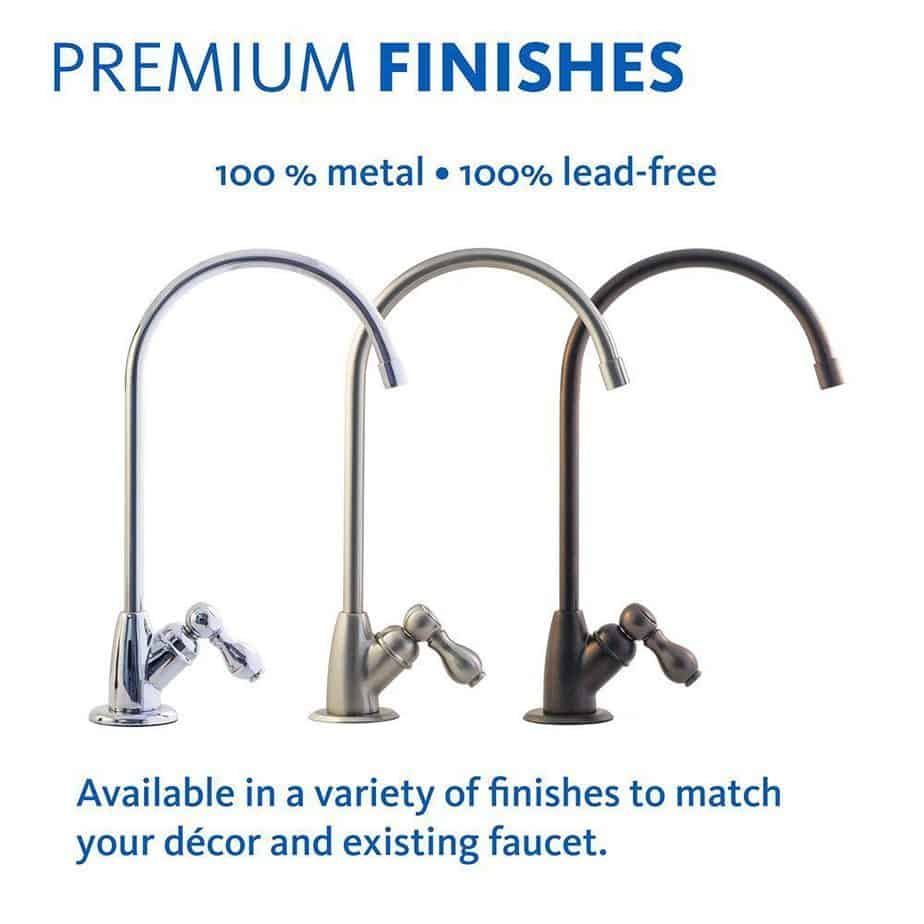 ​With this filtration system, at a price of just 9 cents per gallon, you will receive a sediment pre-filter that increases capacity and gives you 600 gallons of ultra-delicious water. The package includes all required parts and a DIY installation manual.
​Under Sink Water Filter Buying Guide
The under the sink water filter is a popular staple within many homes, providing a very efficient supply of filtered drinking water that can be accessed at any time and that is far more convenient than a water filter pitcher. Many people find that ​undersink water filtration systems are the perfect fit for their home which is why we're going to help you make sure it is the right solution for you.
In this section, we're going to outline several usage scenarios in addition to the type of performance you can expect from the under counter water filter, as well as a summary and review of the pros and cons of such a water filtration method, all with the intention of influencing informed buying decisions and ensuring that you buy only the most suitable water filter for your home.
How Does an Under Sink Water Filter Work?
​Under-sink water filters are designed to sit underneath your kitchen counter, directly underneath the sink itself as shown within the images of this review. In terms of purification system placement, this is one of the most convenient locations possible and allows you to maximise the space across your work surfaces (unlike a countertop water filter) whilst maintaining water treatment quality.
As ​you can see in this review, there are several different variations of this filter, each with their own unique selling points. Features range from a simple 1 stage system to 3 stage systems which include the use of an RO filter. The most advanced systems even incorporate the use of UV light technology to thoroughly cleanse your drinking water.
If you desire alkaline water dispensed straight from your faucet, there are even models available that provide you with this capability without the inconvenience of repeatedly filling a pitcher.
Under-Sink Water Filter Installation, Maintenance and Use
There are two separate types of under counter water filter; the first known as the simple undersink water filter and the second known as the conventional undersink type. The difference between the two is that the former utilizes the existing faucet present within your sink unit whereas the latter requires a faucet of its own (usually supplied with the system).
Besides that important distinction, both types of undersink filter utilize a filtration cartridge which is installed within the cupboard beneath your sink. This sink filter cartridge will require changing at a time scale dependant on your usage.
How To Install A Under- Sink Water Filter By Yourself
Installation is straightforward and will require you to plumb the supplied water filter into the incoming cold water supply to your sink unit. From there, and depending on the type of filter purchased, you simply use your cold faucet tap as you normally would and enjoy the benefits of fresh filtered water through simple drinking water filtration. It should be noted that only some of these systems are capable of producing alkaline water.
Every filter will have its own installation procedure which should be followed to prevent encountering any difficulties. Simply consult your instruction manual for a detailed overview of the process.
We have included a video below which provides an extensive amount of detail in regards to how to plumb in your new filter. Even if you do not purchase the model shown, this video should prove very useful in gaining a better understanding of how your plumbing works.
How to Change Under Sink Filter Cartilage
Your filter cartridges will need replacing on a periodic basis, dependent on the quantity of water that you filter ​every day. We find that anywhere between 6 months and 5 years is a normal lifespan for most filters.
The filter replacement procedure will vary depending on the model you choose to buy, but usually, it is simply a case of temporarily disconnecting the ​water supply before then removing the old filter from its housing.
Once complete, reinstall the system as per the instruction manual and prime the system by running water through it until there are no air bubbles.
Is an Under Sink Water Filter Right For Me?
To answer this question you need to figure out what your typical water usage scenarios might be..
‍Low Usage: We would quantify low usage as a household of one or two people who consume an average quantity of water daily. In addition, households which rarely use filtered water for cooking also fit into this usage profile. If you fit into this category and value convenience, a regular water filter will probably be best.‍
Medium Usage: We would quantify medium usage as a household of four people, each of whom drink a consistent amount of water every day in addition to regularly using filtered water to prepare meals. If you fit into this category, you would be the perfect candidate for such a filtering system.‍
High Usage: We would quantify high usage as a household of four or more people, who require a high performing supply of filtered water for drinking, making beverages as well as the preparation of food. Again this usage works too as you will get filtered water directly from the tap instead of refilling filter jugs.
Primary Advantages of Under Sink Water Filters‍
Water Speed
This is where the under counter filter comes into its own. Because of the size of the filter installed, the filtration process is much quicker than it is through other methods, allowing you to request large quantities of water on demand and over a short period of time.
The flow rate of this type of filter is very impressive and should match the flow rate that you usually receive through your faucet. If you proceed to purchase a conventional under sink filter, flow rate is slightly reduced but still very efficient nonetheless.
Water Filtration Capacity
This specification refers to the quantity of water that can be filtered before the internal filter requires replacing. This figure is usually expressed as gallons which should provide you with the ability to ascertain how long each filter will last.
As a guide, we can say that most under-counter water filters will purify anywhere between 2000 and 50000 gallons of water before needing a replacement filter. This equates to anywhere between six months and 5 years of stress free water filtering.
Water Filtration Quality
Water filters are independently tested by third parties to ensure that they filter out the substances and compounds they're supposed to. This helps you as a consumer to identify the type of filter that you require for your home. Every water filter under sink is tested to this specification.
The two most common certifications available for home water filtration devices are:
NSF/ANSI 42: Classified as taste and odour, this certification primarily concentrates on the removal of chlorine, iron, magnesium, hydrogen sulphides and the balancing of mineral pH levels.
NSF/ANSI 53: Classified as heavy metals, this certification primarily concentrates on the removal of arsenic, asbestos, copper, lead, mercury as well as organic and inorganic chemical compounds.
It should be noted that under basin water filters are generally far more advanced than other types, with some featuring several different individual active carbon filters which each perform a separate role. These are known as 3 stage water filter systems and are a sure fire way to guarantee that you are only consuming the highest quality of water possible.
If you live in an area that features poor water quality, these advanced filters are for you. Ensure that they are certified to both NSF 42 and 53 standards for the highest levels of performance and to ensure they can remove all contaminants including lead and fluoride.
​Additional Points for Consideration
There are several other factors which you should consider before deciding on the best purification system for your kitchen, some of which we briefly touched upon earlier in this buying guide.
Water Pressure
​Adequate water pressure is a vital aspect of every property's water infrastructure. This factor becomes even more important when deciding on a purification system as they will all reduce water flow at the faucet to some extent.
The severity of this reduction will depend on the system you choose to install – but rest assured – all of the models we reviewed here excel in this area. If your home suffers from significantly low pressure, we suggest contacting a plumber to see whether the issue can be improved.
We also suggest looking at some of the best countertop water filters as they will provide you with filtered water without reducing the water pressure through your main faucet.
Ongoing Maintenance Costs
The ongoing maintenance of these systems revolves around the periodic replacement of each filter cartridge. Each cartridge will generally last for a considerable period of time but the cost of a new replacement should still be taken into consideration.
No replacement filter for this type of system is particularly expensive but they do vary in cost. You will often find that 3rd party companies will produce their own replacement filters which will provide you with a variety of cost-effective options to choose from.
​Our Verdict
​Our sink water filters comparison has concluded and these are our suggestions for buying the best under sink water filter. Do any of them meet your requirements? We are particularly interested in the Woder system because of its exceptionally easy installation procedure and its huge capacity. The other options are all of the highest quality as well, however, so if you feel one of them is a better fit for your home – you won't go wrong.
Some homeowners are also fans of the CuZn UC-200 under counter water filter which makes a great alternative to the models we have reviewed. It is an inline filter which is similar to the Woder model, so if you're looking for a suitable alternative, be sure to check out this model.  
Regardless of what model you choose you can expect
Space Saving. Purchase a 'simple' model and you won't even know it's there until you open your cupboards. Perfect for those homes where maximizing space is paramount.
Low Maintenance. Once your purifier has been installed, it could provide you with years of clean and tasty water with only so much as a replacement filter change.  
Efficiency. Some of the fastest water filters available, the below counter filter is perfect for when you need large quantities of filtered water throughout the day.
High Performance​. Most of these filters utilize activated carbon block filters which is one of the best ways of filtering water available. ​​​
We hope that having read both our in-depth under sink water filter reviews in addition to our buying guide, you have what you need to feel confident to make the decision as to whether buying an under-sink water filter is ​the best for your needs.