A kettle is one of those necessary items that everyone needs to have in their kitchen. While a kettle's job sounds simple, there is a lot more to it than simply boiling water. These days, kettles come with a wide range of features – in fact, you may be feeling a little overwhelmed by all of the modern features. If you are in the market for a brand new kettle, you have come to the right place. We've created the ultimate guide to the best tea kettles.
This article will help you understand what makes a good, safe kettle, will give you a list of the very best tea kettles for every type of kitchen, and will answer all of your questions about safe kettle maintenance.
What to consider when buying a tea kettle?
A kettle is designed to heat water. Although it's quite a simple job, you will quickly come to loathe your kettle if it starts playing up. If you are in the market for a new kettle, here are a few of the things you will need to consider before narrowing down your options.
Type: First of all, you will need to decide what type of kettle will suit you best. While most customers opt for an electric kettle for its modern look and its efficiency, other people will prefer to purchase a stove top kettle for its aesthetic charm.
Temperature: Some kettles are able to heat your water with more precision than others. If you are something of a tea aficionado, you will know that some blends are brewed best at specific temperatures. If you are after a kettle that can heat water to a specific temperature, this will be an important facet to consider when you begin your search.
Cost: Kettles can range greatly in cost. Simple kettles with minimal features can cost as little as $10, while state-of-the-art kettles can cost over $100. Set a budget before you start shopping.
Size: It's important to consider both the internal capacity of the kettle and its overall size. Internal capacity will determine how much water the kettle can hold, while the overall size of the kettle will determine where it fits on your kitchen counter top.
Appearance:  This is a fairly important thing to consider when it comes to kettles. This appliance is likely to sit on your counter or your stove permanently, so it will be a major feature of your kitchen. Decide whether you are after a sleek, modern design, or a classic, retro look.
Use: If you are after a kettle that is quick and easy to use, you probably won't want something with too many features. You may even want to find a cordless kettle to make the process even simpler.
Exterior Heat: If you are concerned about your children touching the outside of the kettle accidentally, make sure you purchase a kettle that doesn't get too hot. Most classic stove top kettles do heat up and can be dangerous to handle without an oven mitt. Check the exterior heat of your kettle when you are considering it.
Sounds And Noise: A final important feature to consider is the sound and noise of the kettle. Some kettles are designed to be incredibly quiet, while others make a lot of noise as the steam pours out of the top. If you prefer a quiet kitchen, opt for a kettle without any whistles or sounds. Or, if you're prone to walk away from the kitchen and forget you put the kettle on, a whistle can be a great feature to remind you that your water is ready.
Category Winners For Best Kettles
Now that you've had a chance to think about which factors are important to you, let's get into the winners for the best kettles.
The best multi-use overall tea kettle
Our favorite kettle is the Miroco Electric Kettle. This kettle is a state-of-the-art appliance with plenty of exciting modern features. With its minimalistic, simple design, it will look great in any kitchen.
Features include:
Precise temperature control allows you to preset your temperature
Safe double wall design means the outside of the kettle never overheats
"Keep warm" button allows you to leave your water for an hour
100% stainless steel interior
1.7L capacity
Quick boiling time
Option for a beep to alert you when the water is ready
The best tea kettle with an infuser
The Willsence Electric Kettle with Removable Infuser is our pick for the best tea kettle with an infuser. This amazing kettle comes with a removable infuser so you can use it to make tea or just to boil water. With six programmed temperatures, you will be able to make an excellent cup of any type of tea or coffee you choose.
Features include:
The "keep warm" function, which will keep your water at the correct temperature for up to 120 minutes
Built-in safety precautions like  the child lock and the boil-dry feature
Materials are all safety certified: BPA-free silicone, high-quality glass, and stainless steel
Wide mouth is easy to clean and pour
1.7 L capacity
The best tea kettle for camping
The Tentock Outdoor Kettle is our pick for the best kettle for camping. This aluminum kettle is designed for outdoor use, plus it's super lightweight and portable making it an easy addition to your camping supplies.
Feature include:
Made of hard-anodized aluminum alloy, which will resist wear and corrosion
Silicone coated handle to keep it cool enough to touch
Comes in 1L or 1.6L sizes
Foldable handle for portability
The heat exchanger in the base of the kettle can shorten cooking time by 30%
Can also be used as a tea or coffee pot
The best tea kettle for an induction stove
The Sotya Black Stove Top Kettle is a fantastic all-around stovetop kettle but is especially recommended for induction stoves. This stylish, sturdy kettle can safely sit directly on top of your stove. This is the perfect kettle for an induction stove, as it will become too hot with a gas stove.
Features include:
The retro design comes in three cute colors
100% Teflon free and BPA-free
Made with stainless steel
Automatic loud whistle
High thermal design on the bottom of kettle shortens the boiling time
Anti-scald handle design for easy use
2.4L capacity
The best tea kettle for a gas stovetop
If you have a gas stove, we recommend trying the SUSTEAS stovetop kettle. This gorgeous stovetop kettle looks like an antique but comes with a range of modern features. You will love seeing this kettle sitting on your stovetop all year round.
Features include:
Anti-scald handle design
Push-button technology on the handle for easy pouring
2.64 Quart capacity
Loud whistle
Made with three layers in the base to heat water evenly and quickly
Comes in a stylish gift box
100% Teflon and BPA-free
2-year warranty
The best whistling kettle
The Cafe Brew Collection Stove Top Whistling Tea Kettle is a wonderful stovetop kettle with a modern glass design and a loud, tuneful whistle. Never forget your kettle is boiling with this extra loud whistling kettle.
Features include:
Suitable for any stove
12 cup capacity
Made of quality borosilicate glass from Germany
Made in the USA
BPA-free
Safe for dishwasher
FAQs about kettles
If you have still got some questions about kettles, we're here to help.
Are enamel tea kettles safe?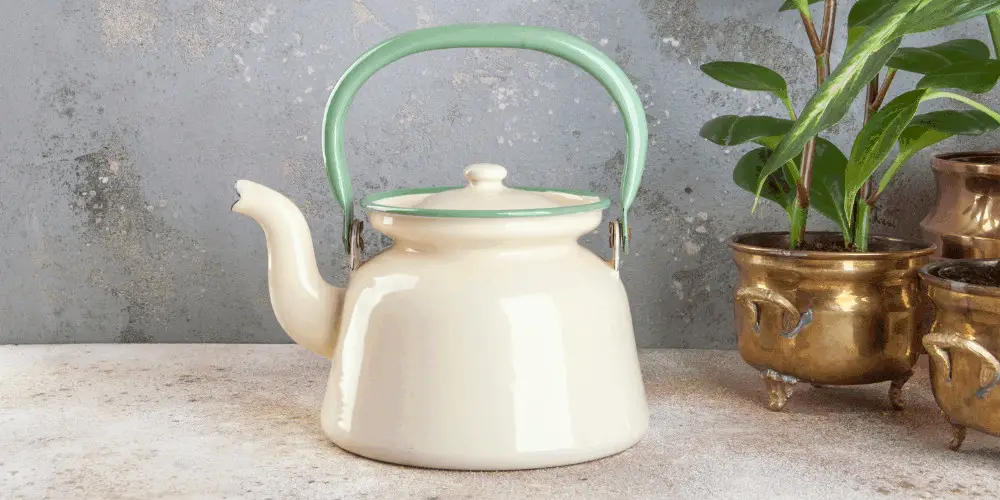 Enamel is a material often used to make teapots. You should never put your teapot directly onto the stovetop, however, some stovetop kettles have been designed using this material. While some people steer clear of enamel kettles because they contain plastic, if you purchase an enamel kettle from a reputable, licensed manufacture, your kettle will be safe to use.
Are copper tea kettles safe?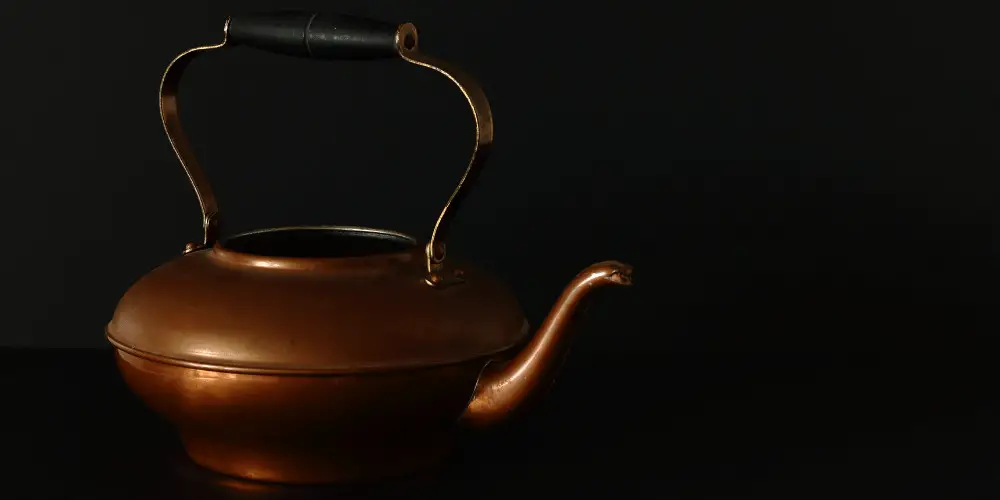 Modern copper kettles are lined with steel, tin, or metal to make them safe. Boiling water that comes in direct contact with copper can lead to copper poisoning. However, unless you've made your own copper kettle, or you are using an antique, you can rest assured that all modern copper kettles will come with safe linings.
How do you descale a tea kettle?
Depending on the quality of your tap water, you may find that limescale builds up inside your kettle quite quickly. To make sure you and your family are safe, we recommend cleaning your kettle every few months.
The best way to remove limescale is to fill the kettle with a mixture of 50% water and 50% white vinegar. Leave this mixture to soak overnight. After you have let this mixture soak into the kettle, remove any stubborn limescale and rinse the kettle thoroughly before your next use.
You can also choose to use a chemical descaler, but be sure to check that the descaler is suitable for all of the materials in your kettle.
How can you prevent limescale buildup in a kettle?
If you are noticing that your kettle tends to get dirty fairly quickly, it may be worth taking some steps to avoid limescale buildup. Limescale builds up in a kettle because your tap water is hard, or mineral-rich. One way to prevent limescale from building up is to carefully dry your kettle after each use.
If this is too time-consuming for you, try investing in a water softener for your home. This will make your water healthier to drink and will improve its quality for hand washing, showers, clothes washing, and dishwashing.
Finally, you could invest in an anti-limescale ball. You will find plenty of options online. These balls sit in your kettle and prevent limescale by softening the water that is in the kettle.
Can you clean a kettle in the dishwasher?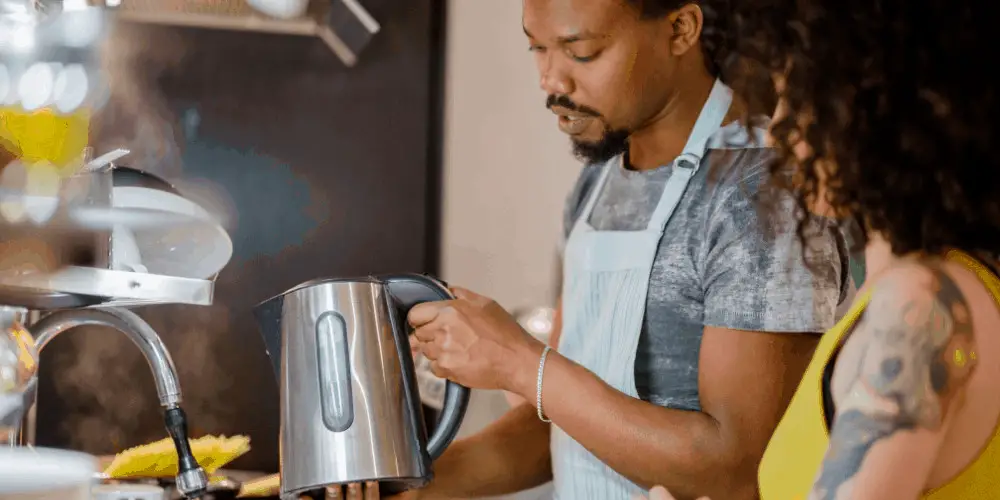 Electric kettles are not able to be washed in a dishwasher. Some stovetop kettles are designed for dishwasher use. Nevertheless, we recommend cleaning any kettle thoroughly by hand to remove any stubborn limescale build-up.
Can you clean the spout of a kettle?
If you have a tea kettle with a small spout, you may be wondering how to clean it. Over time, you may notice that the spout has a lot of limescale building up inside it. To clean the spout, simply pour the vinegar and water mixture out through the spout. This should remove any limescale.
Can you make tea without a kettle?
If you need to make a cup of tea but find yourself without a kettle, it is possible to boil water safely without one. The best option is to use a pot on a stovetop. Simply bring a pot of water to boil, then carefully pour this water into your cup or teapot. Be careful to let this water sit for a few minutes to prevent scalding.
You can also use a microwave to boil water. If you use a microwave, simply put a tea bag into your mug of water and then place it in the microwave for around 30 seconds.
Final Thoughts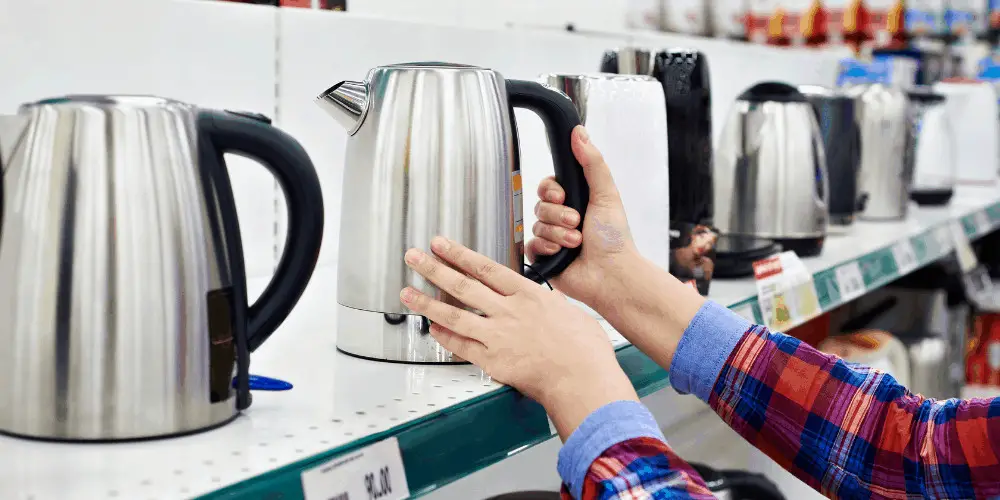 So, there you have it, our favorite kettles! Remember to make a list of what qualities you are looking for in a kettle before you begin your search. For some people, a simple steel kettle does the trick, while others require more complex features such as temperature precision and whistle alerts. We hope you've enjoyed this list, and that you enjoy some excellent brews with your new kettle this year.