People drink 3,000,000 tons of tea yearly. Ever wondered how all the used bags get recycled? If you are hoping that manufacturers use organic and natural bags that will decompose organically, you would be partially mistaken. With millions of cups drank daily, small plastics in teabags can add up to a lot of non-biodegradable compounds in the landfill.
In this article, we'll talk about composting teabags and share our aggregated list of the best eco-conscious tea brands making waves today.
Most tea bags are not compostable as they contain polypropylene, a synthetic polymer that helps the bags to seal up and maintain their shape in hot liquid. That said, certain eco-conscious tea brands are dedicated to packaging their products in recyclable and compostable materials.
Before you throw your teabag in your compost bin take a look at the manufacturer's site for additional information on their packaging. If that information is not readily available do note that in most cases, you can split open the bag and compost the used tea leaves while discarding the teabag in the trash.
We understand that taking the latter approach does not exactly take an eco-conscious stand, so without further ado here are some of the most salient tea brands making waves by using plastic alternatives in their packaging.
Eco-Conscious Tea Brands
Brew Tea Co is based in Manchester and is a member of the Ethical Tea Partnership.
Clipper Organic Everyday Tea, a brand that uses unbleached and plastic-free bags.
Teatulia is a social enterprise and they use a mesh bag called soilon.
Hampstead Tea is strongly committed to its cup to compost ethos.
Wearetea, the first brand to remove the paper tag and uses a biodegradable material sealed using ultrasound, instead of glue.
Eteaket is an Edinburgh-based company that uses a fully biodegradable inner packaging called NatureFlex.
Nemi Tea has always been a plastic-free brand ever since its launch in October 2017.
T2tea comes from Australia. Its bags are made from opaque and transparent cornstarch.
Roqberry is a modern fusion tea brand and their pyramid-shaped pouches also use soilon.
Pukka Herbs is a manufacturer that uses an organic string and plastic-free label.
Good and Proper Tea use a plant-based packaging called Vegware.
Twinings Pyramid Tea Bags were plastic-free since 2014.
Teapigs is the first brand that received the world's plastic-free trust mark.
Who Invented The Tea Bag Anyway?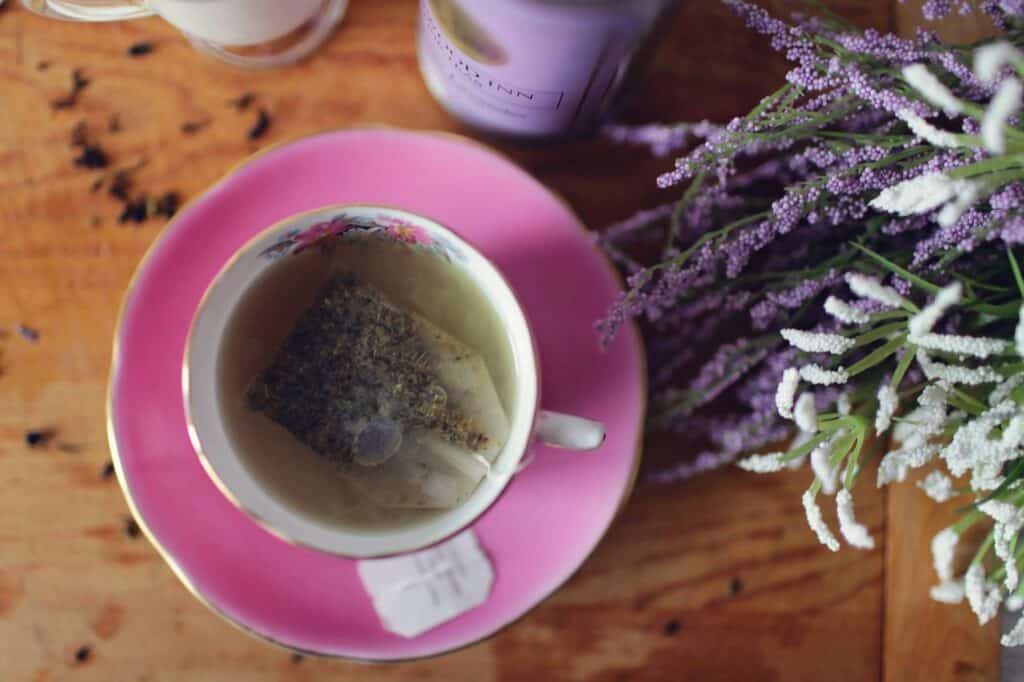 The question of who invented the tea bag still elicits debate. Some speculate that it was discovered by accident when Thomas Sullivan shipped his samples in silk pouches. After immersing these pouches in hot water, his customers realized they could drink the tea without opening the bag.
Others say it was seven years prior when Roberta C. Lawson and Mary Molaren applied for a patent for a tea leaf holder.
But what we can all agree on is that single-serve tea bags are now mainstream. But with that growing popularity are tea manufacturers contributing to the ever-growing trash pile?
Wait There's Plastic in My Tea?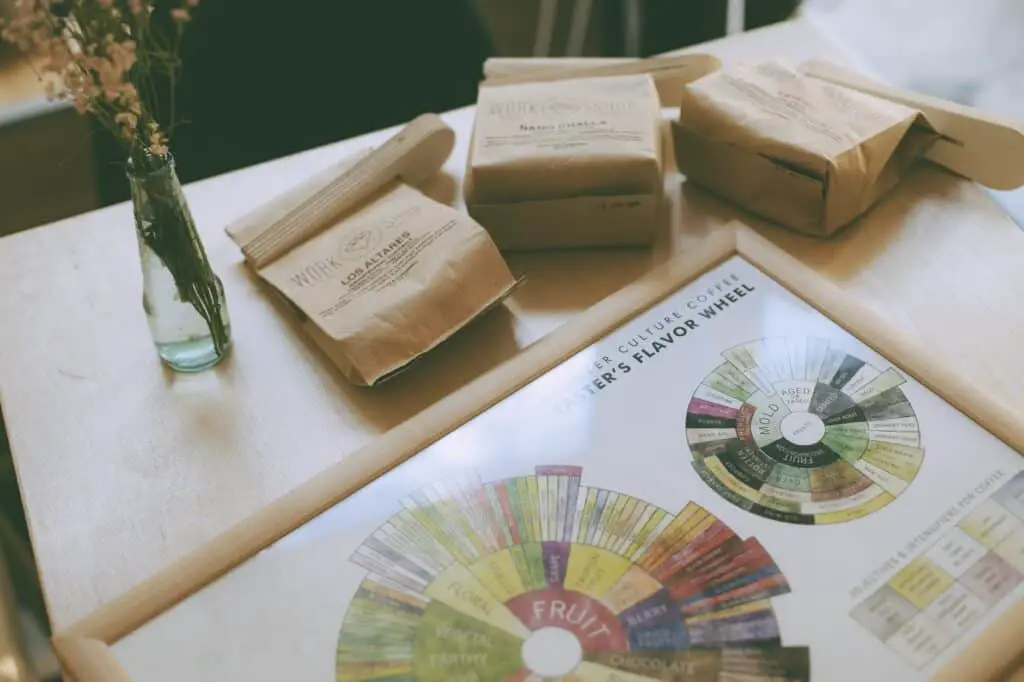 There can be as many as 11.6 billion microplastic particles and 3.1 billion nano plastic in each cup of tea according to this study.
But not all tea has to contain plastic. This is especially the case if you opt for loose tea leaves, and or brands that use some of the alternative technologies to make their teabags.
Let's take a look at some of the alternative tea bags and how they differ from the defacto:
Brands Using Biodegradable Alternatives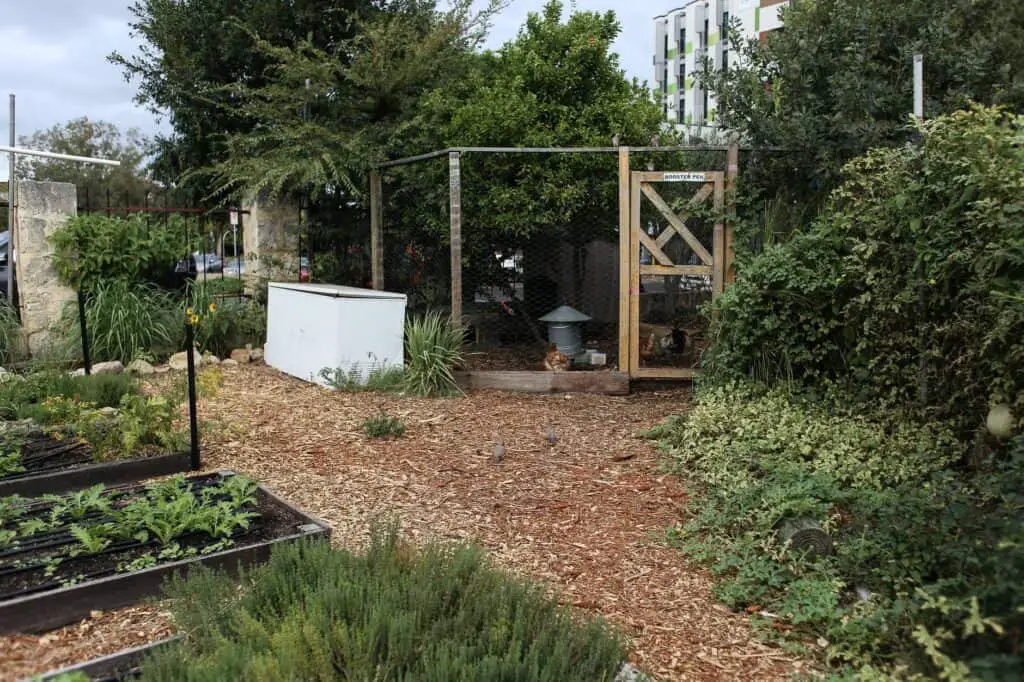 The company supports small estate farmers. All of their boxes are made out of cornstarch. The inner lining is made from NatureFlex. They have this awesome card inside the box explaining how all parts of the teabags and packaging can be recycled. Their teabags are compostable and break down in 45 days.
The bags are made from abaca, a Fairtrade, plastic-free, and non-GMO product. Fun Fact: Clipper Organic was the first pillow-shaped teabag to meet these criteria when it launched in 2018.
The brand is in support of tea farmers and against their exploitation. The company has a cow lending system that allows farmers to get milk from the animal entrusted to them and in turn, the cows provide manure to fertilize the tea field. The Teatulia mesh pyramids are made from soilon. So it's fully biodegradable and doesn't contain any glue.
Zero-waste is one of this company's top priorities. They are extremely committed to its cup to compost strategy. All pyramid packs are made with non-genetically modified sugar starch. This means that the entire bag, even the inner plastic pouch holding the tea bags, can be used in the home compost bin. You'll really appreciate that there are no strings and labels attached to these bags. A bamboo tong handy for removing your bag is included as well!
As part of the Ethical Tea Partnership, they switched from nylon bags to soilon. Teabags are sealed by ultrasound, rather than glue. During its biodegradation process, the material breaks after three to six months in industrial waste bins.
The pouches are made of soilon, which is unbleached and biodegradable. The paper tags are not laminated. They are attached to the string with ultrasound. The inner covering is made of NatureFlex, which is compostable at home.
Since its launch in 2017, its pyramid pouches have been plastic-free. The soilon bags are completely biodegradable and non-GMO. It uses NatureFlex adhesive to attach the string to the tag. In addition, it helps refugees integrate into British society by employing them to run their tea stalls.
It's been accredited by B Corp in the U.K. It means that the company has incredibly high standards related to sustainability and ethics. Their pouches are made from cornstarch. It's more opaque than others that use the same materials. Composting at home might take up to 18-24 months. It's better to take it to a composting facility.
The brand also uses soilon, which is biodegradable but won't break down quickly. It's best to dispose of it in recycling facilities. Composting this material takes six to eight weeks under ideal conditions. The cube boxes are made of FSC paper that is also recyclable.
The brand has developed a unique teabag design that eliminates more than 100 tonnes of plastic from the brand's supply chain. This process took four years to develop. A small amount of BPA-free plastic is used in each envelope, and the material degrades when wrapped in paper. In 2014, they stopped using staples to connect the string and the tag.
It uses a pillow-shaped soilon, and other parts of the pouch are made from plant-based packaging called Vegware. This brand can only be composted at the industrial level, so if you use this brand at home, bring it to compost facilities instead.
Plastic-free bags was introduced by Twinings in October 2014. Instead of plastic, they use maize starch treated with an enzyme. It contains a small amount of plastic that needs to be removed before composting. The inner foil wrapper is not recyclable, so don't forget to remove it if you're going to compost this.
This brand was the first to receive the world's first plastic-free trust mark. You may be disappointed to see the plastic-like inner bag. But, it's actually NatureFlex, which can be used as compost and can be recycled at home.
How Do I Compost My Tea Bags?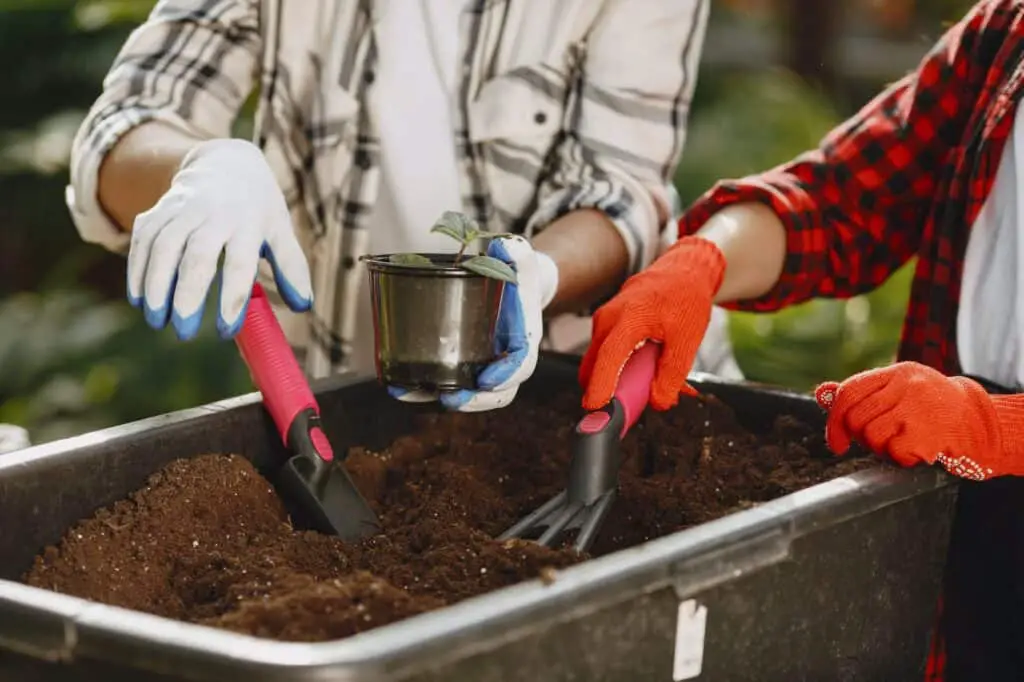 Not sure if the tea bag your favorite brand uses contains plastic or even a small amount of polypropylene? A rule of thumb is to check the texture, teabags that are slippery to the touch and use a heat-sealed edge should be thrown in the trash (which is a bummer) after removing the tea leaves.
A very eco-friendly tea habit you can adopt is composting your used tea leaves. Planting your used tea bags is a wonderful way to dispose of them. This will also benefit your plants. Here are easy steps to follow:
Step 1: Let the steeped tea bags or leaves cool completely.
Step 2: Remove the loose tea leaves from the pack. Check if the pouch is fully compostable. In the first half of this article, we've identified which brands have composting tea bags.
Step 3: If you don't have a lot of bags yet, keep them in a compost bin or bucket in your kitchen.
Step 4: When you have enough, move them to your outdoor compost plot in your garden.
Step 5: Once your composting is completing plant them in your soil to nurture your plants.
Composting Tea Bags in the Vermicompost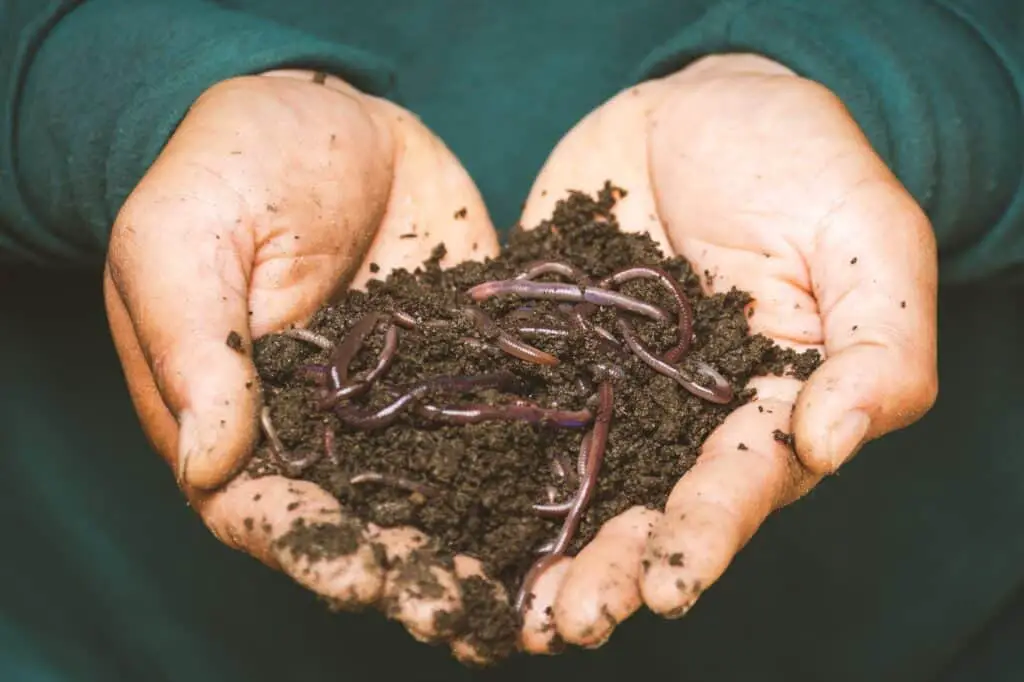 Red worms accelerate the biodegradation process, breaking down inedibles such as teabags. This type of compost turns into a rich, dark organic fertilizer. To safely compost your tea bags in a worm bin using vermicomposting, follow these steps:
Make sure the steeped tea bags are cooled down before using them.
Separate the bags from the loose tea. Add these loose leaf tea to the worm bin.
Remove any non-biodegradable parts from the pouch.
Dry the composting tea bags. Too much moisture harms the worm bins.
Once dry, toss them in the bin too!
Ways to Upcycle Your Tea Bags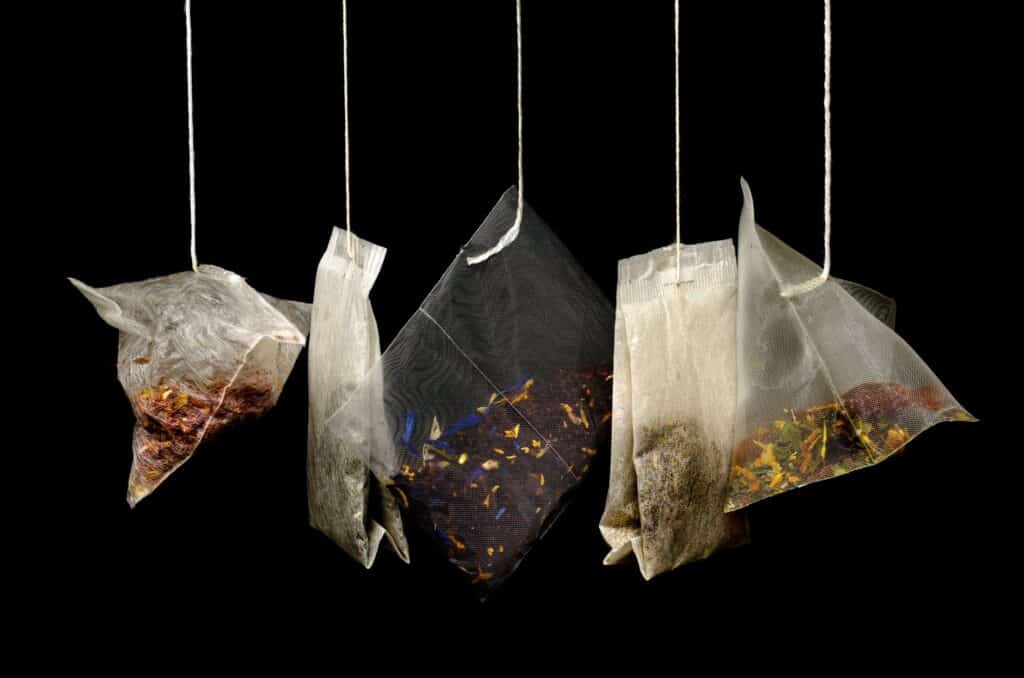 Not all brands can be composted but there can be many other amazing uses for your used brew bags and loose leaves. Here are a few of our favorites:
Use as Spice: Thai and Chinese food taste even better with mint and green tea!
Cat Litter Odorizer: The dried loose leaves can be mixed into your cat litter to neutralize odors.
Fridge Odorizer: You can store used bags in the refrigerator to remove the rotting cheese smell.
Natural Degreaser: Clean plates by soaking them with hot water and using tea bags for oil that clings to the plates.
Mouthwash: Dry and rebrew mint tea bags to make an organic mouthwash. Wonder why your grandma loved mint tea? Use mint tea bags to make an organic mouthwash.
Self Care: Soak your feet in warm water with black tea bags for a nice foot bath. Cool your tea bags and put on your eyes to make puffyness less noticeable.
Refresh wood surfaces and furniture: Rebrew your used tea bags. Wipe these surfaces clean with a well-rung-out cloth.
Conclusion
Tea drinkers can be creatures of comfort. But as you are indulging in your favorite teas, it is important to keep in mind how the tea is sourced. Selecting companies that we can stand behind not only impact the lives of those who farm and process the tea bags but also our world! if you think tea bags are just wrappers, think again preferable with your favorite tea in hand!